Jenks&Co
Churt
Useful information
What do prices start from?
£900 - £5,000
Works Abroad
We have experience doing events outside the UK.
Services
Videographer
About the company
Daisy and Kitty Jenks film parties and weddings and are known for their 'lip-sync' videos. Before the event, the host chooses a song. Daisy and Kitty circulate among the guests, ask each person to sing a line, then edit the clips together into a 10-20 minute film bursting with warmth, joy and laughter.
In the last 10 years, Daisy and Kitty have filmed over 1,000 events of every type, in 13 countries. Their videos are different to traditional wedding videos.They film the same bits, but the music and lipsynching add something special. Clients tell us how, years later, they get enormous pleasure from rewatching and 'reliving' their parties.
If you are planning an event, wherever it might be, get in touch with us and we'll email you examples of our work. You may not think lipsynch videos are for you, but when you see one, you'll change your mind!
Style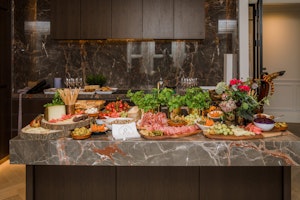 Informal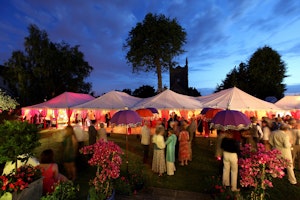 Bohemian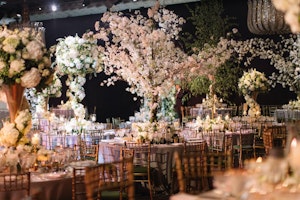 Whimsical
Additional Information
Are you happy to stay late?
Do you provide digital editing?
Do you have public liability insurance?
When was the company started?
2009
Are you VAT registered?
No
FAQ's
No. A party of cool, beautiful thirty-somethings who have all the moves does mean you get a lovely-looking video, but some of the best we've done have had guests with no sense of rhythm at all. The trick is in the editing. We make sure all guests are happy with how they end up on screen, and the 'stars' often turn out to be the ones with the worst moves!
Nope. The way it works is that we move among guests while the event is going on, pull a few people gently aside, explain what we're doing, and sing their line to them. Sometimes, we'll demonstrate an accompanying 'move'. 30 seconds later we do the first take, then we might do a few more to get it right, and it's over! No rehearsing is needed, and we don't interrupt the event itself. We're often told by hosts afterwards that their guests *enjoyed* the process and that it was a useful ice-breaker. That's certainly what we aim for.
Yes, if we're filming a wedding, we usually film the ceremony from the back of the church without any lip-syncing, and add background music to that part of the video. We also film the speeches and put them on a separate video. The rest - the bride getting ready, the ushers' lunch, the reception and the dancing - are the parts that do have lip-syncing. Depending on how much footage we have, there may be one song or several. Sometimes, if we think we've done enough lip-syncing, we will just shoot straight footage of the dancing, and add that at the end of the video.
Honestly, no. Older people like showing off as much as young people (apparently they were young once), and it's enormous fun getting them to sing a line from a modern pop song with - how can we put it? - interesting lyrics. Very occasionally, a guest will say they'd rather not be in a video and we totally respect that. What we've found though - without exception - is that when guests who did agree to be in a video see the results, they are so, so pleased they took part.
Not long. We like to start editing within a day of an event because then we remember the people we filmed and what they did, and it makes it easier for us to piece the clips together. Usually, we have the finished video done within 3-4 days of the event, sometimes much quicker than that.
We upload the video to our website with a password, and send you the link. You can then send the link and password to guests if you want, and they can watch it. It's not unusual for a video to get 1,000 plays after a big wedding. People love watching themselves! If you'd rather the video did not go on our website, we can give you a Vimeo download link and you can download it to your own computer.
Yes, we've filmed in Europe, North Africa, North and South America and Asia. The cost of filming abroad is higher than in the UK, because of the days spent travelling, but we do what we can.
Nearly all our videos are passworded because they were done for clients who want to keep them private, so we can't make them accessible to everyone. We do have permission from some clients to show them to prospective new clients, and if you get in touch with us about your event we can show you examples of weddings, parties, bar and bat mitzvahs, corporate and charity events, and others.
It's best to get in touch as early as you can and we can tell you if the date you have in mind is one that we could do (if you want us). We don't usually commit to an event more than six months in advance. This is to avoid a conflict between work and, for instance, a family holiday.
Yes, on quite a few occasions we have had clients who really, really want a video of their birthday party, but we've been committed to other things on the night. What we've done instead is work with the husband (or wife) to secretly go round the offices/homes of the wife's (husband's) best friends and get clips of them which we then edit into a finished video that is SHOWN ON THE NIGHT. So instead of the video being filmed on the night and shown to guests later, it's filmed in advance and shown on the night. It works best if the number of friends/family is limited to about 25 and if they all live in or near London. That way, we can get all the clips in a few sessions, during the weekday. If some of the friends live abroad, they can film themselves on their iPhones and email the clips to us. It's a slightly different product, but it works brilliantly. The birthday boy/girl gets a surprise film on the night, with his/her best friends and family saying lovely things about him/her. What could be nicer!
There are lots of contenders. Noel Gallagher's 50th was a highlight, but we're not allowed to talk about that. Some of the most memorable have been simple events which just had a magical charm about them. We've been lucky to work for some lovely individuals and families?
Suppliers you may be interested in...
Useful
Services
About
Style
Additional
FAQs
Articles
Contact