How to Master Tablescaping with Top Tips from Serena Fresson
By HOPP Team
Serena Fresson is a 'mother, grandmother & table laying enthusiast'. Her inspriational account @tabledressup is delightful, and abundant with styling ideas and stunning combinations of linen, crockery, glassware, floral decor and accesorise. Serena's passion lies in decorating & projects have included a Sloane Square hotel, houses in the English Countryside, and St. Tropez villas. We are thrilled to have her giving some insider tips on dressing up a tablescape!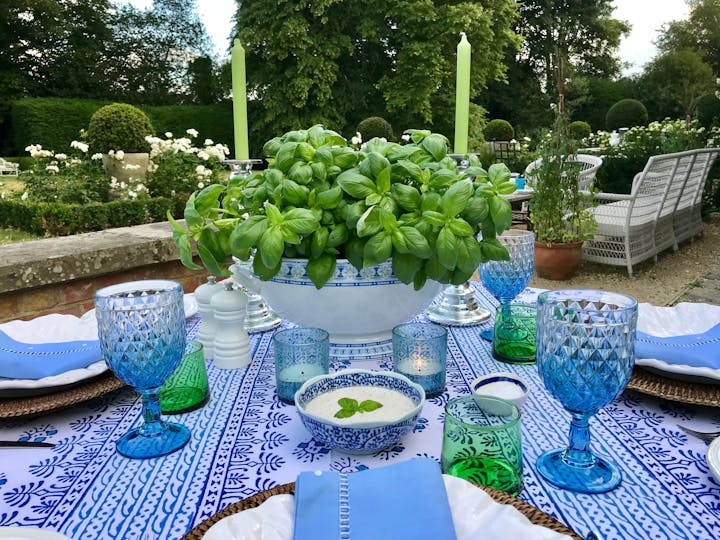 Where are you writing this from?
I am lucky enough to be writing this from my home in Hampshire profiting from some wonderful weather and surroundings.
What or who inspires you at the moment?
I have always been a huge fan of Martha Stewart and Carolyne Rhoem and I don think that has really changed over the last 35 years. Being Australian I am drawn to their fresh bright colour palette (although I rarely use more than one or two colours including green) and love of outdoor dining. Finally I am obsessed with Paolo Moschino and always think - now clearly this is not his style - perhaps I should remove something or tone it down, rather like with jewellery or/ makeup!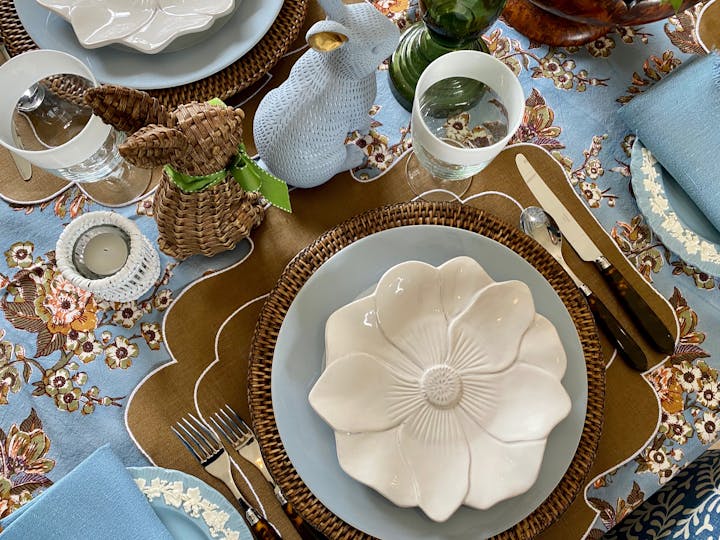 How do you start your day?
My day begins rather early (6am) due to panic purchasing a puppy just pre lockdown when I should have been stocking up on loo paper and real essentials. Post feeding Iris (Beaglier puppy) and her sisters (Puggles called Daphne and Tiger) I take the them out for an early stroll around the garden in my dressing gown and wellies (flip flops when it was hot) with a cup of very strong PG tips (milk and sugar) and a pair of secateurs in case someone has bloomed overnight and is ready to be put in a vase. It's then back up to bed for some morning news and of course a little social media scrolling until about 7.30am. Lockdown has altered my routine hugely - I haven't been to a supermarket since late February - rarely left the gates to be honest! I try to take it slowly otherwise by 11am I am ready for dinner and a glass of wine!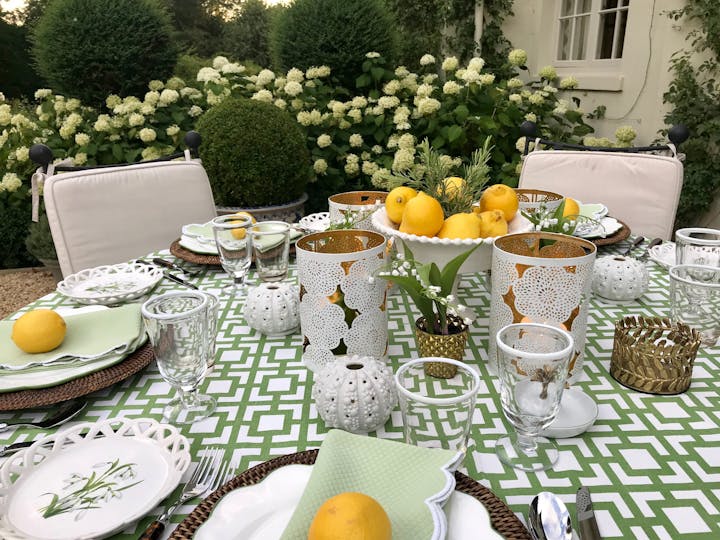 What are your favourite accessories to use when laying a table?
I have so many favourite accessories that come out all the time but when I look back at my photos there are a few that stand out.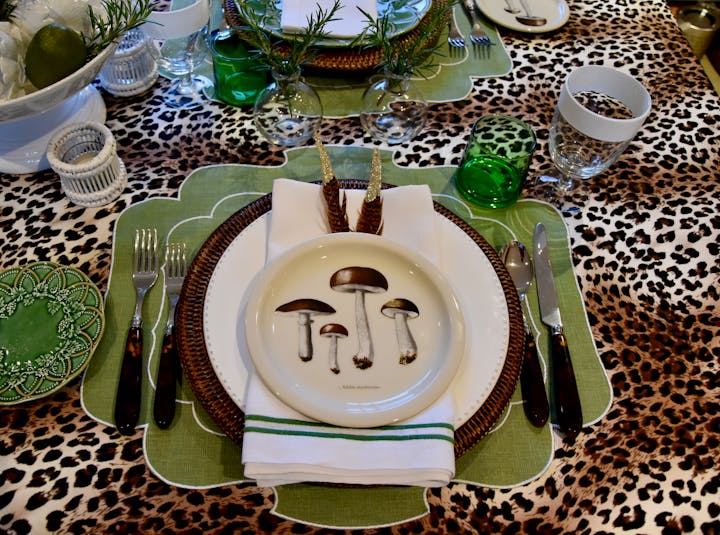 Who would you use for a dream party?
I love throwing parties and I have used these companies countless times.
Definitely invitations from Henrietta at Grosvenor Stationery. I don't like anything too mad, a twist on traditional and the card stock should be almost thick enough to walk on - I think it sets the tone for your party.
Lavender Green Flowers - I love their approach, style and flexibility to cater to a variety of personalities and tastes.
Jenks & Co. Now I am not sure that I would enjoy this process but I would love the final result which you could treasure and enjoy for years - well my children could!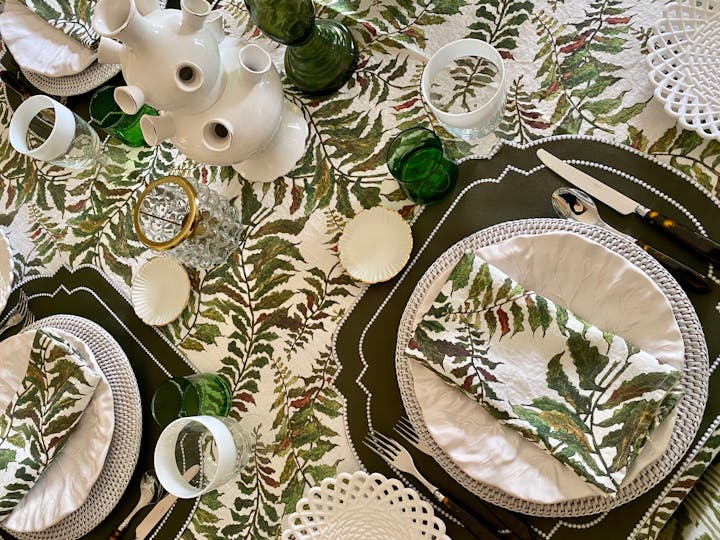 What are your top tips for styling a tablescape?
Don't feel that you have to spend a fortune on fresh flowers. I use a combination of fresh potted herbs, cut rosemary, green apples, lemons, limes, foliage from the garden and decorative ornaments.

Layer, layer and layer is probably my biggest tip. I like to use a tablecloth followed by a placemat and finally one of my rattan chargers. I am guilty of over layering when it comes to plates - my children/guests complain constantly!!

Tea lights are a great source of gentle candlelight. I have a huge collection and scatter them around the table - long life burning tea light candles well worth investing in.

Keep a beady eye on on Ebay for original plates/china/ornaments and even fabric remnants for making up tablecloths as these pieces can turn you table into something a little more original and authentic.

Never scare your guests with an overdone table or they will never invite you back.

If you want to go to a little more effort you can tie a ribbon around your napkin (The Ribbon Room) and place a rosemary stem, feather or fresh flower.
A note from HOPP: To view & shop the beutiful collection from Serena's collaboration with her daughter Alice Naylor-Leyland please click HERE.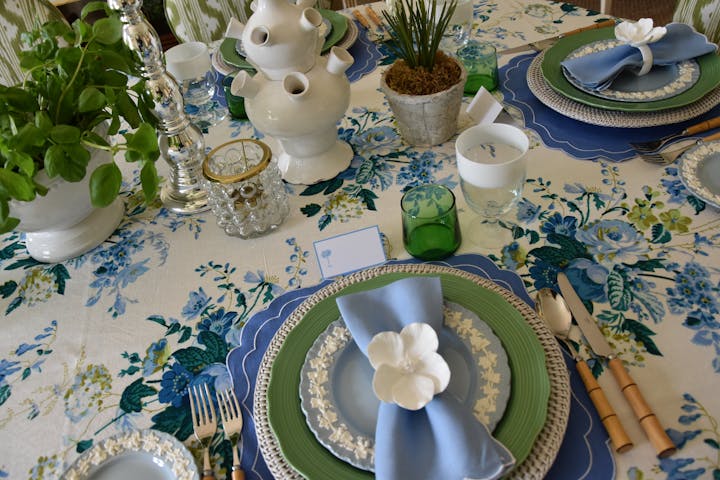 Written by our Team of HOPP Experts.