'Having A Colour Theme Creates A Fabulous Impact,' Sarah Ross
By HOPP Team
Sarah Ross & her husband founded Addison Ross which remains family-owned company, with a worldwide presence, of luxury décor and gift collections. Their trays are particularly wonderful; for breakfast in bed, table arranging & of course the (occasional) laid back dinner we have become especially fond of during this lockdown period! We are thrilled to have Sarah giving us some expert advice on styling and accessorising your table scape (which not only applies to hosting parties but also at home!).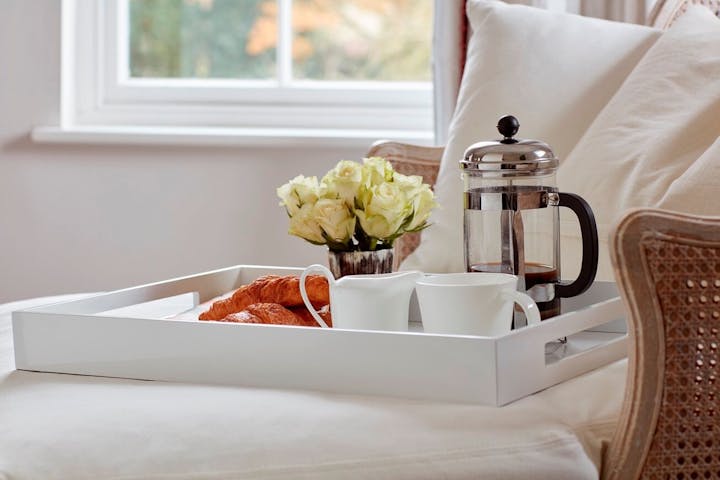 Where are you writing this from?
Our Home office in the beautiful West Berkshire countryside, not all that different for us as we have always worked remotely to our factory up in the Borders where David originally comes from.
How do you start your day?
Breakfast in Bed! Benefits from WFH, I usually take up a tray of coffee, toast and marmalade, followed hot on the heels by Boris (our dog!) who swiftly hops up and joins us, catch up on the news with a flick through pretty much all the news channels (we're news junkies!), scan through any urgent emails which have come through overnight and enjoy the views over the fields of our neighbours polo ponies.
What are your favourite accessories to use when laying a table?
With the launch of our new lacquer trays this year it has to be with a tray, I usually pop one of our small trays in the centre to arrange all the condiments together with a pretty vase of flowers.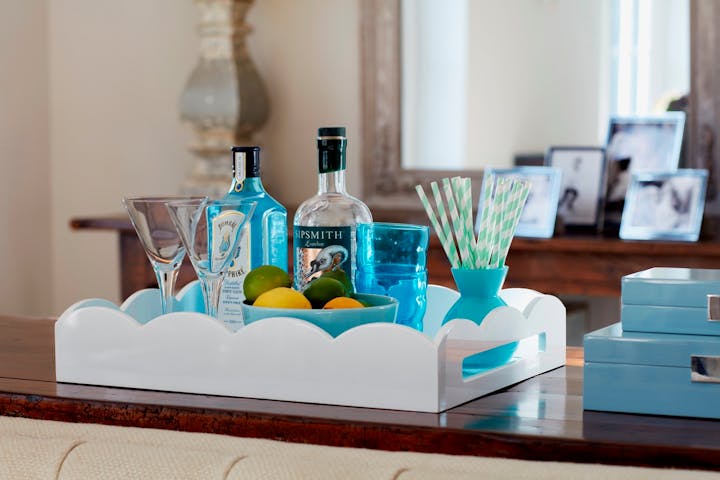 Who would you use for a dream party?
I would love to use Raj Tent Club for a big celebration, they are so incredibly pretty and unusual, and such a perfect way to set the scene.
I adore flowers and love what Lavender Green Flowers create, the more abundant the better! Peonies and Roses are my favourites!
For a children's party (although mine are now too old) you can't do better than Sharky and George. My daughter was lucky enough to be invited to countless Sharky and George parties and they were all "the BEST". I know both Sharky and George's Mum's who live locally to us, so we've been big fans from the very beginning, and it's been a delight to watch them grow and expand over the years.
What are your 5 top tips for styling a tablescape?
Start with a Central Object, a vase of flowers, a beautiful candelabra or an interesting object.
Keep flowers low, there's nothing worse than having to lean around an enormous display to talk to someone.
Use either tea lights or tall thin candle holders, avoid anything that's going to block you from being involved in conversations across the table.
Having a colour theme creates a fabulous impact, our favourite at the moment is pale denim blue.
Look out for fun and eye-catching napkin rings and drag the napkins through in a flamboyant flourish rather than rolling them neatly.
To shop the collection click HERE
Written by our Team of HOPP Experts.