Restaurants We Love and How to Emulate Their Vibe
By HOPP Team
Oh man do I miss bars & restaurtants; and am over the moon that some will begin to open over the next few weeks! Whilst cooking has become a much looked forward to hobby during lockdown, and innovative deliveries & produce boxes are increasing my awareness of where ingredients are sourced, I must admit I do miss the experience of dining out. It's not necessarily the actual food that I miss the most, but the human interaction & the vibe and decor that is individual to every restaurant that makes your meal feel unique and special. Eavesdropping on conversations, sharing a friendly moment with a stranger at the bar, asking waiters for advice on the menu (even if I already know exactly what I'm ordering because i have looked online before). And if it isn't cheeky to say so I miss parties too! I am aware that amongst the tragedy it feels a bit frivolous to highlight these without mentioning that the health and safety of the nation understandably takes precedent. However, I miss drinks parties with friends, drinks parties with strangers, an exciting brand launch, a celebratory dinner and low behold a wedding full of loved ones!
In crowded cities it can surprisingly be hard to find connections; restaurants & events have always provided a space for that. Our communities—our lives—revolve around the places we frequent and the milestones in our diary we look forward to. Some restaurants are iconic, due to their unique vibe and ethos of their staff. So much so that they become the inspiration for many events with talented event suppliers drawing on styles and themes to create fun chill out areas, nightclubs within marquees & table scapes that make us swoon. Below is a list of the five restaurants whose good vibes we can't wait to return to after lockdown & ways in which you can replicate their decor style at a future party!
Renowned for individual style and simple elegance Petersham Nurseries big exhilarating space with chandeliers, old floorboards, limewashed walls, hessian curtains, foxed patchwork mirrors, pretty Murano glassware, bold contemporary art, abundant with indoor plants and floral displays.
It has a wonderful atmosphere and therefore unsurprisingly makes makes for fantastic inspiration for a marquee wedding or party.
We just adore Folly Hire's Zinc Tables & Wicker Chairs in this stunning Petersham Nursery Inspired Marquee Wedding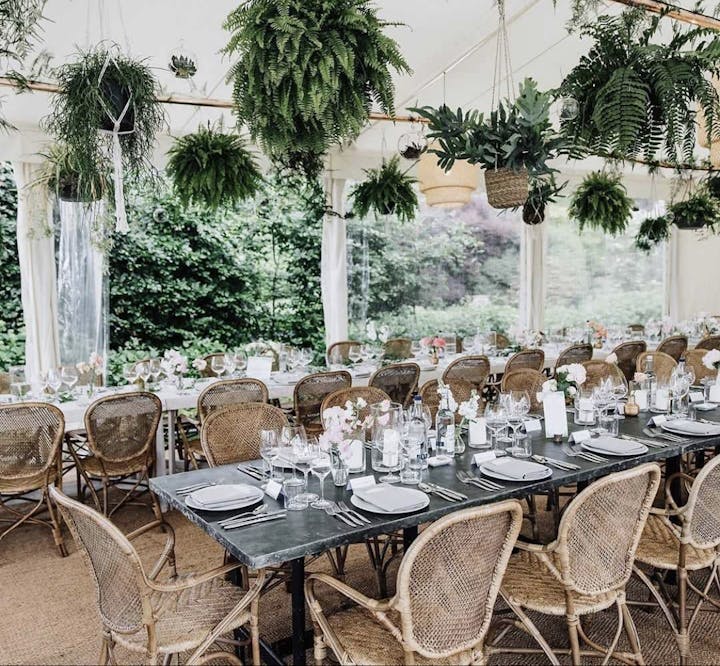 Neighbourhood favorite Wild by Tart is a large and immersive restaurant, bar, deli, shop, event space, and photography studio all together. The space offers a creative and dynamic approach to dining,& the seasonal and nutritious farm-to-table menu is full of delicious treats (best shared).
Doggart & Squash are the pros at this! With both party planning & catering expertise they are excellent at creating a beautiful but relaxed ambiance through their styling and menu choices. We just love their sharing boards as a starter, edible floral details & gorgeous floral & herb bars!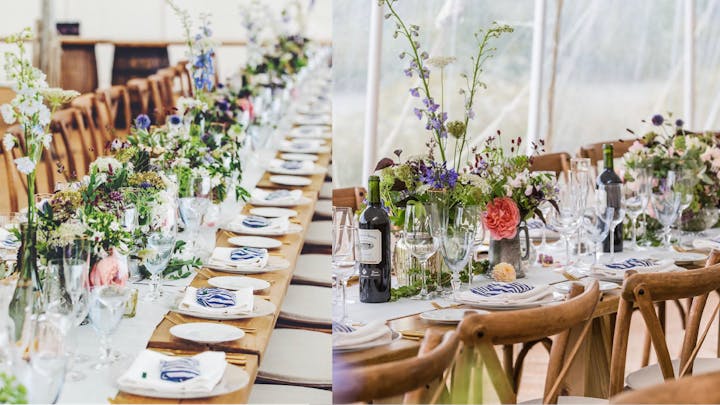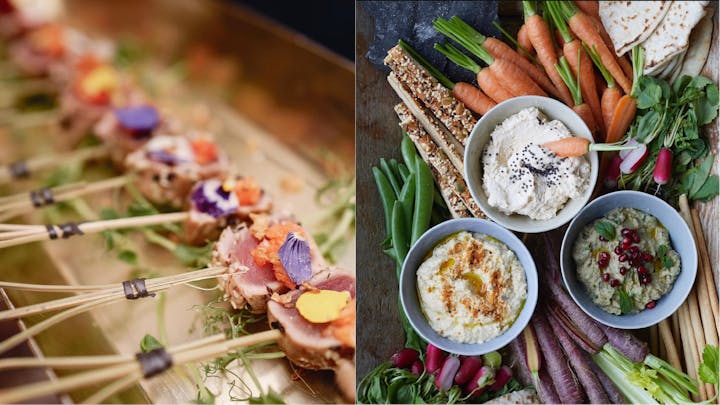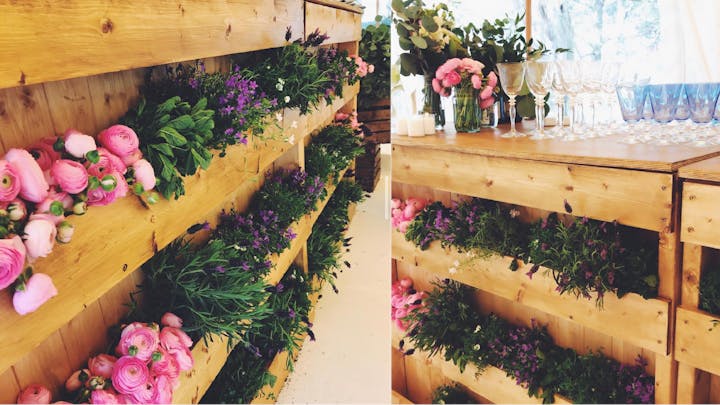 One of the most iconic London restaurants and bars (and not just for it's trendy loos!); the sumptuous velvet is heavenly and creates a great atmosphere for a drinks party or nightclub area at a party.
Juno Hire has all the answers here and we adore the Dinky Armchair in Millennial Pink & Dusky Blue, Parker Bar in Silver Mirror & Gatsby Sofa in Powder Rose! Check out a shoot they styled & our Sketch moodboard to get your creative juices flowing..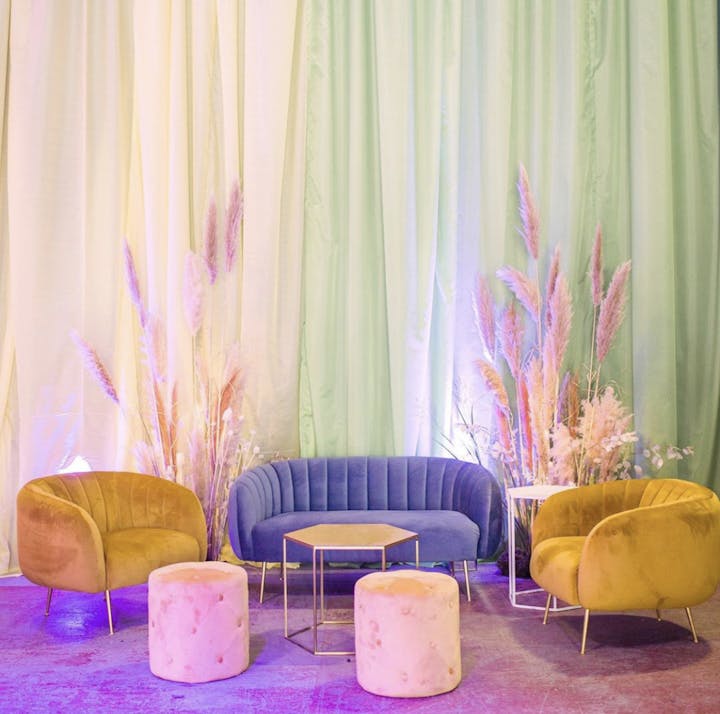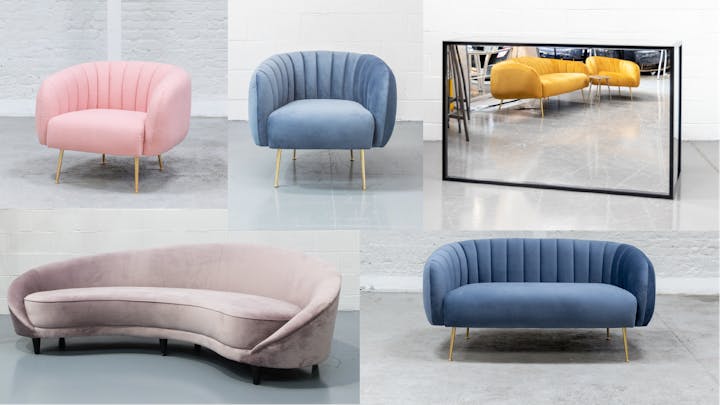 Banana bread, tick. Homemade burgers, tick. Sushi… now this is something I am not able to recreate at home. There is something unique about Japanese cuisine that invokes the feeling of a special occasion - a date night, an overdue catch up with a best friend. Sakagura in Mayfair is described as a two-floored palace of sushi, steak and sake, with personal tabletop grills - YUM!
The brief given to the Twilight Trees team was to create a cherry blossom scene. Lots of mood boarding and design layouts later, the team came up with the bountiful display of cascading pink blossoms you see here. This look can be created at any party...perfect for a brand launch but also equally fab for a baby shower!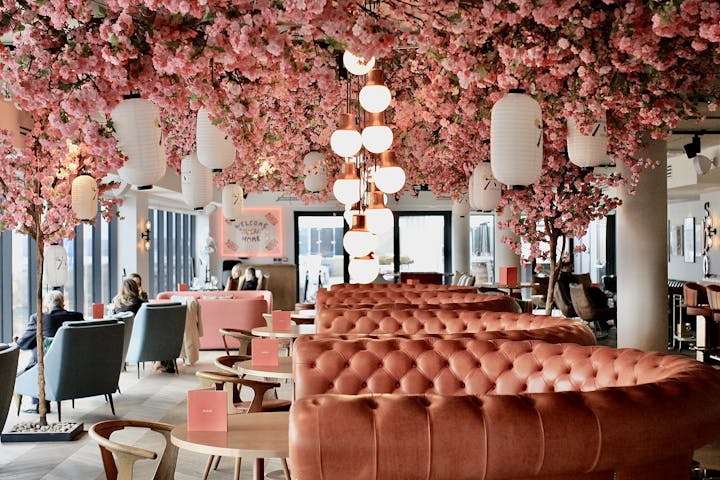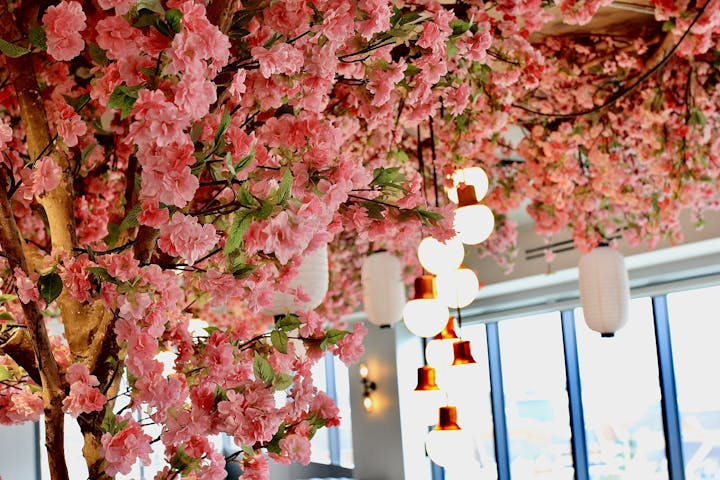 Harry's Bar is as famous worldwide for the beauty of its décor as the quality of its food. Venetian chandeliers and Fortuny fabrics, Murano glassware and a polished wooden floor create a gorgeous atmosphere of relaxed luxury.
Urban Caprice recreated this ambiance for an event at 44 Berkeley Square (using furniture from Folly Hire) and can in fact recreate any of the Birley Group's iconic restaurants. Whilst being able to offer menus from the The Ivy, Harry's Bar and Scott's, Urban Caprice can also create the atmosphere & decor of these much loved restaurants!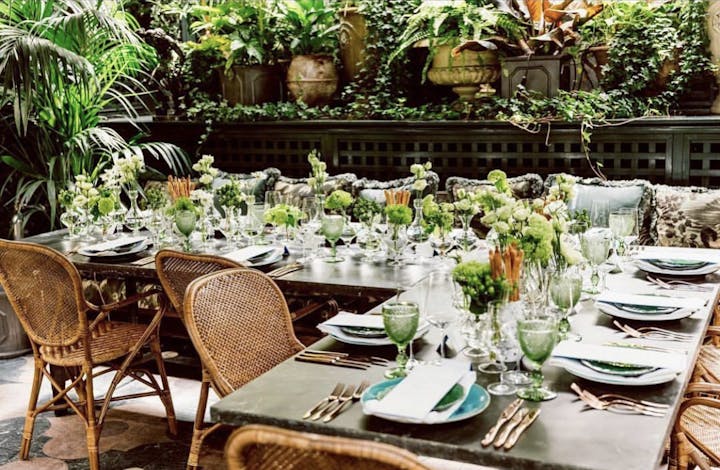 Written by our Team of HOPP Experts.