Twilight Trees
Useful information
What do prices start from?
£395 + VAT
Services
Decor
About the company
Twilight Trees provide stunning faux trees that create atmosphere and impact. Twilight Trees launched in 2014 with their LED Cherry Trees and have since branched out to include a breathtaking collection of 'Trees in Bloom', LED Maple and Palm Trees, 'Trees in Green', 'Trees in Gold' and the brand new party tree. The rental service stretches Europe wide and sales are global. Clients range from brides and grooms planning intimate weddings, events companies planning extravagant events for top secret clients and huge corporations such as Google and Huawei. Venues include the Natural History Museum, Somerset House, The Dorchester, Historic Royal Palaces and Burlington Arcade. Whether looking to frame a grand entrance, add some elegant sparkle around the dance floor, create twilight illumination on your terrace or adorn the top of your aisle; Twilight Trees will create the magic you are looking for.
Style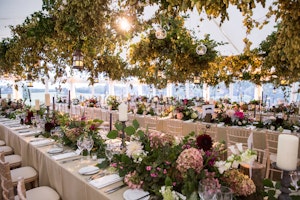 Natural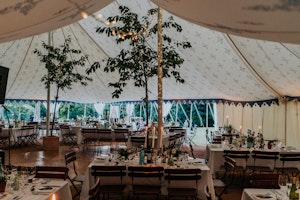 Rustic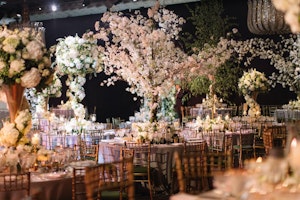 Whimsical
Additional Information
Do you provide stage decor?
Do you have public liability insurance?
When was the company started?
2014
Are you VAT registered?
Sustainability
Twilight Trees pride ourselves on a zero waste policy. The rental framework on which our business is based means that there is minimal wastage and we will always strive to better this.
FAQ's
Twilight Trees have been adding both glamour and elegance to events, weddings, corporate, retail and residential throughout the UK since 2014. Our sparkling and vibrant sculptured LED Cherry Trees were our original trees and although we started small and local we were getting requests from iconic locations and top events planners very quickly. We have been privileged enough to provide the backdrop for some of the UK's most romantic weddings, our trees illuminate some of the most stunning gardens and stand on roof terraces overlooking the Alps. We have increased our range significantly and now have distinct collections of trees of all descriptions.
We work very closely with individual clients, event companies, lighting designers and florists to create a concept that is unique to each customer. We play with scale, lighting and dressing the bases to make each event individual and to fit with a theme or venue; every space and every client is different. We pride ourselves on being the experts on our trees and know what trees work best in certain spaces and also any restrictions we might have.
We take care of everything so that you can enjoy your event. The Twilight Trees experience is very much a service from start to finish. This begins from the very moment you get in touch with a member of our Twilight Trees design team to plan the overall look and vision of your event. We can also carry out a site visit. On the day, our professional and accommodating operations team will arrive on site at the times you have provided to install the trees. The trees are built in situ and secured safely, and we finish off with a dressing of fresh moss on the base. Once the event is over, we will arrive back on site at your stated access times and derig/collect the trees.
We offer a uniquely high-quality product paired with unparalleled service and attention to detail. The effect of our trees is something that has to be seen to be believed.
Testimonials
"From the minute I got in touch with Twilight Trees they couldn't have been more helpful and responsive. I had plenty of questions about which tree(s) to choose and they lots of sent photos and info. We visited their beautiful showroom to see the trees and again the staff were friendly, knowledgeable and a pleasure to talk to. When it came to the day itself they were better than imagined - they arrived early! Were so efficient and friendly and the trees looked amazing! Really cannot fault them."
Sophie Farrah-Pearce
"Thank you to Susie, Hannah and the Team for an amazing job last night for our event in London. The client was over the moon with the quality and the look of them - everyone was commenting on how stunning they were! They really were pivotal to the overall look and feel of the room and it wouldn't have been half as successful if we hadn't of had them. Susie and the onsite team were a complete joy to have onsite and their attention to detail was second to none. Thanks again guys and I look forward to working with you again in the near future!"
Mark Broadbank, Smyle Events
"Wow wow wow! I can not compliment this wonderful company enough. From start to finish to service was incredibly smooth. I was dealing with Hannah and she was so helpful throughout. We hired the cherry blossom tree which we have had so many compliments about. On the day and since people are still talking about the gorgeous tree. At the beginning of the day we used it as our table plan with peoples names hanging off on a mini envelope then inside it told them the table they were sitting at. Then during our wedding breakfast twilight trees moved the tree to a different area of the hotel which was by mirrors and it was the main focus as you came down the stairs. Honestly I'm so glad I found this company and can't recommend enough. Money very well spent!!"
Rochelle Godfrey
"Twilight trees absolutely saved me when another props company gave me the wrong dimensions for a tree the day before my 21st birthday. Twilight trees had extremely communicative and organised staff and they helped me organise a tree delivery for the next day. We ordered their grande cherry tree and it was the most spectacular centre piece to a party - looked incredible in photos and was the talking point of the night. The delivery and set up was done very professionally by lovely staff. They even covered the base of tree with moss to make it look more fitting. Honestly could not rate this company more highly, would recommend to anyone!"
Emanuelle Dahan
"The trees looked absolutely amazing, being great statement pieces. The smaller LED cherry trees, really gave that extra twinkle too. Your staff delivering/ setting-up and those collecting the trees were so helpful, efficient and very friendly. They really made it as stress-free as possible."
Museum of London
"Thank you for the tree and your wonderful staff. The event was a huge success and the tree was a key impressive piece that made the event special. Also- your team set-up in record time - I think it took less than hour and they took it out superfast. I already have the next event lining up and plan to use the cherry trees next time."
Half Note Productions
"Twilight Trees were an absolute pleasure to work with from the off set, the project was no easy task due to the quick turnaround and location access, but they delivered everything I could have asked for. The Grande Wisteria Tree's we hired were amazing, they added great height to the installation, and looked very much real on camera, I look forward to working with Twilight Tree's again in the future. "
ITV's This Morning, Art Director
Suppliers you may be interested in...
Useful
Services
About
Style
Additional
Sustainability
FAQs
Testimonials
Articles
Contact