'Fresh herbs are a wonderful addition to an al fresco table,' Oibhe, Countess of Belfast & founder of Tablescape Style.
By HOPP Team
Under the handle @tablescapestyle, Oilbhe, Countess of Belfast, has been sharing stunning images of some of the world's most beautiful and elaborate set ups. Barrister Oilbhe told the Telegraph: 'Each person reflects their own personality at their table… I see a lot of people repurposing what they have to create different looks, combining old china with modern pieces."
Oilbhe has a fantastic eye for curating tablescapes and these are available to shop as individual products through her website HERE. We particularly love the Penny Morrison placemats - another talented woman who also took part in this tablescape series (to read click HERE)!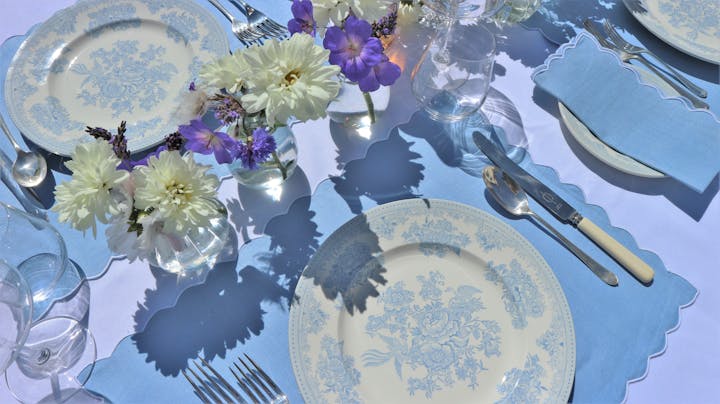 Where are you writing this from?
I am writing this from Wexford in the beautiful Irish countryside.
How do you start your day?
I start my day with a large pot of Earl Grey tea and a slice of sourdough – I started baking it
during lockdown and haven't stopped since!
Who or what inspires you are the moment?
I am inspired by the aesthetics of the past. I have an interest in antique tableware and
historical home décor - table décor has played a prominent part of the pleasure that is the
social meal since the Georgian period. I enjoy browsing Sotheby's or Christie's for beautiful
old tableware and I am currently watching the Sotheby's Dining In auction which has a
wonderful selection of accoutrements from Salvador Dali and Baccarat, among others. When
laying the table for a dinner party I tend to opt for maximalism, and I am inspired by the
flamboyance and fun of artists such as Cecil Beaton.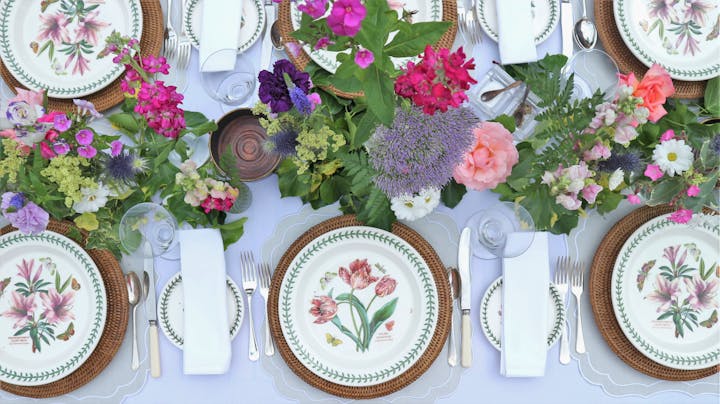 What are your favourite accessories to use when laying a table?
When laying a table at home I love using pieces that have personal meaning – for me this means
items that are gifts from friends or old pieces given to us by family. Mixing old and new accessories to create a unique table setting makes entertaining at home so much more special. My favourite accessories are a set of Ercuis silver placecard holders in the shape of frogs that were a wedding
present from friends - they evoke such wonderful memories and are always a talking point at any
dinner party!
Imagine you were hosting a party: please pick who you would use!
What are your 5 top tips for styling a tablescape?
Fresh herbs are a wonderful addition to an al fresco table. Pots of basil and mint not only look appealing, they create the most delicious aroma on a warm summer evening. A sprig of rosemary or lavender placed on a napkin is another simple touch that guests always appreciate.
For a summer garden tablescape, dressing the table with fresh green foliage creates a stunning natural effect and ivy serves as a beautiful table runner when trailed down the centre of the table.
Seasonal flowers are the best accessory for creating an occasion appropriate atmosphere- nothing looks as fitting on an Easter table as daffodils, or on a midsummer table as roses.
I like to opt for smaller bud vases instead of larger floral displays, not only does this prevent a barrier effect between guests, it makes ones flowers go further.
Placecards are a personal touch that contribute to the effortless running of any dinner party.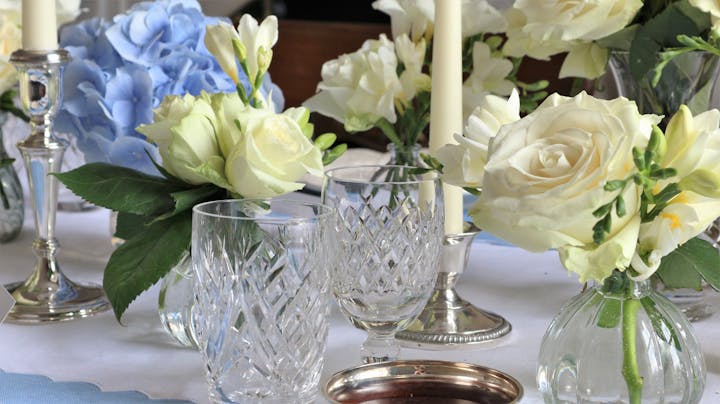 Written by our Team of HOPP Experts.