'Don't Be Afraid To Get A Bit Playful And Creative'; Tablescaping by Penny Morrison
By HOPP Team
Penny Morrison is a world-renowned interior and furnishing designer. She is celebrated for her signature style of pairing unexpected pieces, patterns and palettes to create spaces that brim with colour and effortless sophistication. Born and raised in South Africa, she now lives between her London home and Welsh country house.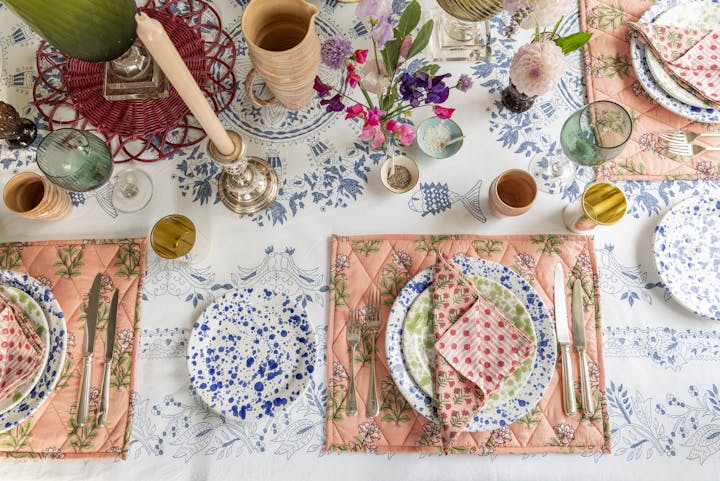 Where are you writing this from?
I am writing this from my studio at home in Wales. I feel very lucky to be able to spend lockdown here in the glorious countryside surrounded by fresh air with views of fields of sheep and cows and the Black Mountains in the distance – the birdsong this year is amazing – in the evenings there is an orchestra of different bird sounds playing out around the wooded glades that surround our house.
What or who inspires you at the moment?
I've always loved to travel and although no one is able to hop on a plane right now, it continues to be a main source of inspiration for me. Whenever I travel, I take my camera with me – I'm constantly taking photos of things that catch my eye, whether that's beautiful tiles on the streets of Lisbon or embroidery work in towns in India. When I get back to my studio, it's a matter of going through my bank of photos and using them as a springboard to inspire new designs, playing with scale, repetition and colour.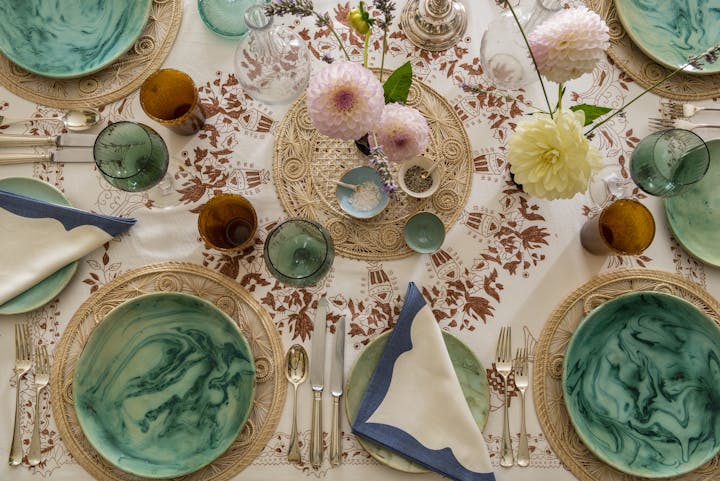 How do you start your day?
During lockdown I have been rather more leisurely, and after a cup of coffee take Pego, my mini dachshund, for a walk around the pond at the beyond the beautifully green fields below our house. It is so peaceful with swans, geese and ducks, all with their offspring following in tow!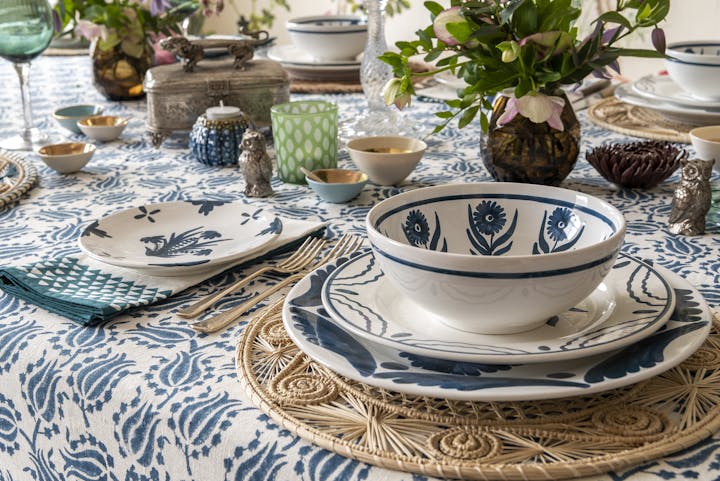 What are your favourite accessories to use when laying a table?
Firstly I love a table cloth – if it is a formal dinner a starched damask table cloth with lots of silver on the table and, of course, silver candlesticks with long white church candles and lots of small vases of flowers.
For an outside lunch or less formal dining I have a large selection of patterned tablecloths, and use our coloured wicker table mats over them, and then play with various glass candlesticks and pale-coloured candles, mixed in with coloured water glasses. I have several sets of china so use ones that compliment or match whatever tablecloth I am using and again, lots of flowers – either small posies that you can see over or tall thin glass vases so the flowers are above head height and don't restrict cross table conversation.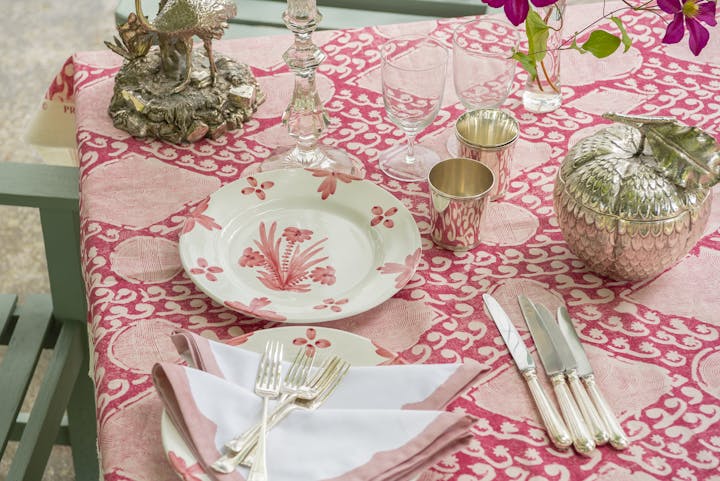 Imagine you were hosting a party: which suppliers you would would use ?
Stretch and Tents - During the summer, I love throwing garden parties here in Wales. These stretch tents are so versatile and the team can put them up in virtually any space on the grounds. It's such a great way of adding a central focus space to an outdoor party.


Lavender Green Flowers - I absolutely love the elegance and creativity of their floristry work. Whether to add floral arrangements to an inside venue or to enhance the natural beauty of an outdoor, their floristry work is just sublime.


Rum Runner - I am a huge fan of rum-based cocktails and the team at Rum Runner really make the best. The ingredients they use are such high quality and they come up with such creative, unique cocktails. I also love their creative bar design options - they even have a vintage Airstream cocktail bar that I'm dying to hire for my next event.
What are your 5 top tips for styling a tablescape?
More is more! I love a maximalist approach so I always suggest using lots of accessories and layering different table linens to add different dimensions to the tablescape.





Never underestimate the importance of lighting! For a dinner party, I love using several votive candles to cast beautiful soft light across the table. Pop them inside a coloured glass hurricane lamp for a gorgeous rainbow effect. And some low back lighting – dimmers are essential on picture lights or wall lights.





Adding flowers will always make a tablescape more beautiful. You can use lots of little vases with small colourful floral combinations, or for a more structured approach, try tall vases with pretty branches. I collect a lot of old bath oil bottles which come in such pretty shapes, remove the labels and they can hold one or two single flowers – I often pick wild flowers from the country roadside or meadows as well!





Be unexpected. You might think that a certain tablecloth might not look good paired with certain table mats but you never know! Sometimes the most unexpected pairings are the best so don't be afraid to get a bit playful and creative.





I like to steer clear of white plates. Why choose something so plain when hand-painted ceramic tableware can instantly add a beautiful artisanal feel to your set up? I love to mix and match different hand-painted ceramics to create a tablescape that really tells a story. Guests arriving at a well prepared and welcoming table are instantly flattered that you have gone to all this trouble for them and it sets the mood and the expectancy of delicious food.
To browse the webshop please click HERE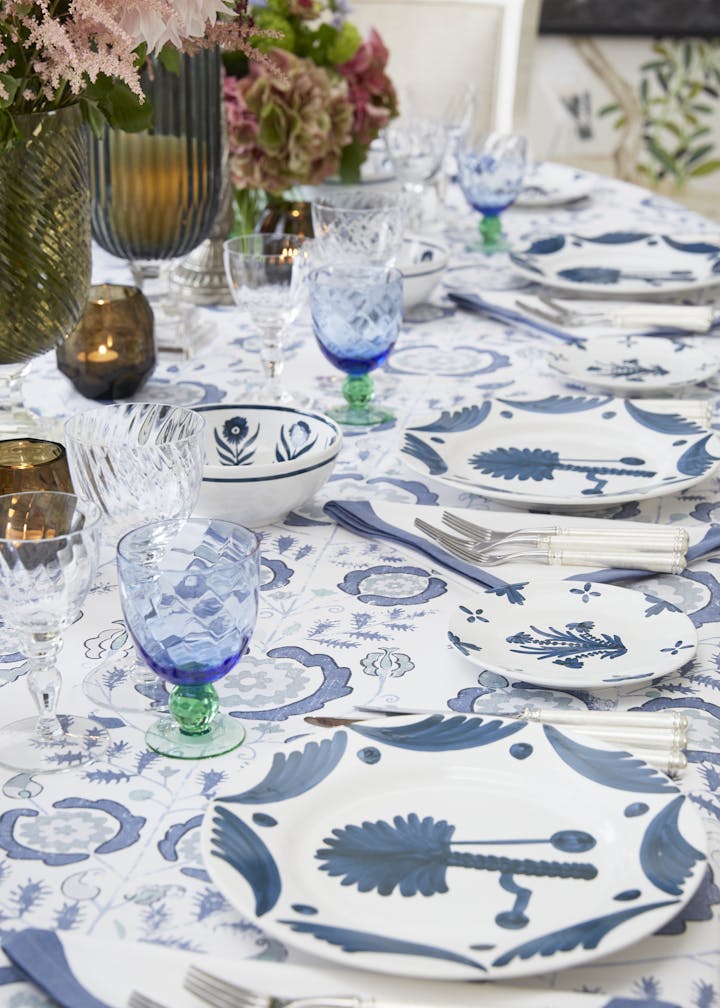 Written by our Team of HOPP Experts.