Planning the Perfect Jewish Wedding
By HOPP Team
Nothing fills us with more excitement than an upcoming wedding; the music, decor, food, drink and dancing — not to mention the love and joy of coming together and celebrating a pivotal moment in two lives — are nothing short of magical.
Of course, doing justice to such an important day requires a great deal of forward planning, creativity, and time to pull off. Securing your ideal wedding suppliers, finding the perfect venue, arranging the menus and entertainment, can become quite complicated without the right approach.
Whether you are years, months, or weeks away from the big day, read our guide to ensuring that you have all the right plans in place to start your married life on a high note.
The Venue
Modern and chic, rustic, traditional or totally unique — finding your venue is one of the most important, and exciting, parts of the wedding planning process. It gives you an opportunity to share in the growing anticipation together as you begin to visualise the day itself.
As you begin searching for potential wedding venues, there are a number of factors to take into consideration. For instance, if your venue stipulates that you use their in-house wedding suppliers, then you should ensure that their caterers have the right understanding and facilities to adhere to kosher tradition.
In addition, you should be realistic about the size of the venue; indoor and outdoor spaces (with a wedding marquee to safeguard against poor weather) provide the best option for larger weddings.
Take a leisurely walk around each venue together. Are there good opportunities for your wedding photography? Will it be able to accommodate your wedding decor, dancefloor, tables, and any additional lighting and sound equipment?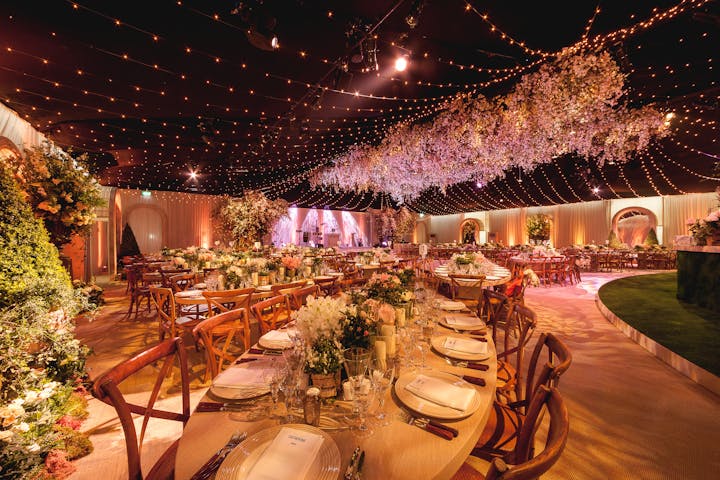 The Ketubah
These days, many couples are choosing to personalise the ketubah text with bespoke designs. Working with talented wedding suppliers, they use unique art- and letter-work, paper cutting, embossment, goldwork
It is a wonderful idea to match your wedding stationery to your ketubah. Ordering your invitations, place settings, escort cards and 'thank you' notes around a unique design will tie everything together, and infuse the day with your own personal touch.
Designing the Chuppah
The chuppah represents your guests' first glimpse of the day to come and, aside from the bride and groom, the focal point of your ceremony.
Its four poles support the canopy, and remain open on all sides. And while the chuppah is steeped in biblical and historical resonance, the design remains open to interpretation by the couple who will stand beneath it. Use this an opportunity for the two of you to celebrate your unique tastes and personalities, and to consider the home — and life — that you will build together as a married couple.
Adorn the four poles with fresh flowers, and unite new life with your own family's rich history by creating a canopy from a treasured tallit, quilt, or lace. Use cedarwood for a rich, sweet smell, drape the poles with swathes of bridal organza and ask four friends to support it for you, or modernise your traditional ceremony with clear perspex and pea lights.
Many couples enjoy working on the chuppah together, so use it as an opportunity to collaborate with your wedding florist on a bespoke design that pays homage to your individuality, and reflects the design of your centrepieces.

Kosher Catering
The food represents another significant moment during a Jewish wedding, where guests come together to bridge the body with the soul. Whether you observe strict kosher practices in your daily life or not, ensuring that you are catering to the dietary requirements of your guests is important not only for tradition, but for everyone's shared enjoyment of the day.
There are kosher caterers available for all levels of observance, which will allow you to adhere to your own beliefs and practices — and those of your guests.
Many talented wedding suppliers are capable of following kosher tradition, and will come armed with the skills and understanding to devise a delectable menu suitable for all of your guests. This is otherwise known as kosher-style catering, where meat and dairy are not mixed, and forbidden foods are excluded from the menu.
The Reception
From your decor and production to the wedding entertainment, designing your reception is a complicated — though rewarding — process. Envision the celebration you think best befits your union, and work with your wedding suppliers to make it a reality.
The Music
If there is one thing a jewish wedding reception cannot do without, it's the music. Greet your guests with a cocktail hour pianist, accompany the dinner and speeches with a solo harpist or violin quartet, and dance the horah to a live klezmer band. As with your ceremony, consider moments that require peace and reflection, and those that warrant a little more energy.
The Decor
Your centrepieces, set design, and wedding decorations will all serve to transform your venue into something much more personal. If your theme is a little more off-piste, consider working with your wedding suppliers to create bespoke props and decor — the likes of which your guests will have never seen before.
The Tableware
Your linens, crockery, cutlery and glassware can be rented through your wedding suppliers. Browse designs, colours, and styles to create place settings that fit with your personal tastes and reflect the theme of the day.
The Cake
As with all of your wedding suppliers, finding a wedding cake maker who is up to the task of creating a stunning, one-of-a-kind creation fit for your special day is a job best started early on in your wedding planning process. Work around your colour scheme, tastes, and theme — and don't forget to taste everything. It is, afterall, tradition to sample every sponge, fondant, buttercream and ganache available.
For an orthodox jewish wedding, choosing a pareve wedding cake (made only using neutral products, making it dairy free) will ensure that everyone can enjoy this tradition together. Now more than ever, many wedding suppliers have the right knowledge and expertise to cater to a range of dietary restrictions and requirements.
Entertainers
Along with your music, you may wish to keep a few extra surprises in store for your guests. Wedding entertainers can put on a stage show or roam around the room and interact with your guests; if there are kids coming to the wedding, then a dedicated child care team are an excellent option for keeping your fussier guests happy.
Lighting
Well-designed lighting can transform even the simplest of rooms, and calling upon the expertise of a professional lighting technician will put the finishing touches to your decor. Whether you want a warm, candle lit glow or a vivid colour show on the dancefloor, give your wedding suppliers plenty of time to scope out the venue, and design a lighting solution to your specifications.
Photography / Videography
Choosing the right wedding photographer is, arguably, one of the most important parts of wedding planning. The beauty and emotion of a wedding can neutralise a few slip-ups on the day, but careless photography is very difficult to fix. Putting your faith in a wedding photographer who will truly capture your day in the best light takes a fair amount of trust, but with thorough research and an in-person meeting, you can relax, enjoy yourself, and allow the professionals to take over.
Similarly, an experienced wedding videographer will be able to capture those fleeting moments with cinematic finesse, without treading on your toes.
The best wedding photographers and videographers will have their diaries filled long in advance; to avoid disappointment, find and book your team early-on in your wedding planning process.
Written by our Team of HOPP Experts.