Buzz Music Group
Cobham
Useful information
What do prices start from?
£500
Works Abroad
We have experience doing events outside the UK.
Services
Music
Specific Details
Band
Classical
Harpist
Musician
About the company
Creating memorable events with music, Buzz Music group provides the UK's finest musicians, specialising in weddings, private parties and events. With 25 years in the music and wedding industry, directors Jonny and Cressida have a network of the best, most reliable musicians in the UK and an in-depth knowledge of the musical repertoire and the possible pitfalls to avoid. Buzz musicians have played for the wedding of the Duke and Duchess of Sussex, Elton John's White Tie & Tiara Ball and many other high profile events. They also play for smaller more intimate ocassions. Finding how a couples favourite track can be arranged to great effect with the best combination of instruments is their speciality.
When you book live musicians with Buzz you get expert musicians, music tailored exactly to your event, outstanding, warm customer service and peace of mind that you can trust it will all go smoothly on the day. It will be an unforgettable experience for you the couple, and for all your guests! Based in London their musicians can travel throughout the UK and abroad.
No matter what you are looking for, whether it's a string quartet for the ceremony or a band playing the classics to get everyone up and dancing, they have it all in one place for you.
When you make an enquiry with Buzz they will organize a phone call or zoom to have a chat, then they will send you a quote with clips to watch. If you choose to book you will receive a booking confirmation with all the details and terms and an invoice for a 50% deposit. The balance is then due 2 weeks before your wedding.
Check out this useful guide of 10 questions to ask your band before booking: https://www.subscribepage.com/wedding-music
Style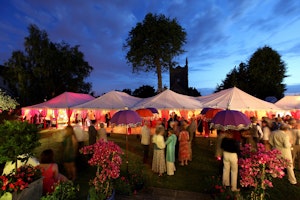 Bohemian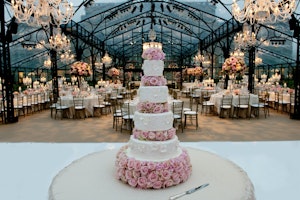 Traditional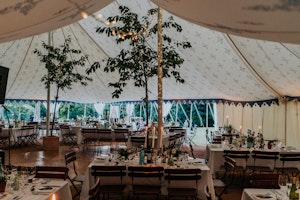 Rustic
Additional Information
Do you offer bespoke music coordination?
Do you offer an entertainment manager?
Do you do bespoke song requests?
Do you have in-house lighting?
Do you have an in-house PA system?
Do you provide artist management?
Do you have public liability insurance?
When was the company started?
2019
Are you VAT registered?
No
Sustainability
We try to use the suitable artists closest to an event to reduce travel distance and promote lift sharing. We try not to print out documents as much as possible. We also raise money for the mental health charities Oakleaf Enterprise and MIND through our sister company Hennessey Brown Music concert series.
FAQ's
Starting with one of our string quartets creating an elegant start to the night we would move on to our string players Urban Soul chill out set or piano and harmonica duo set then onto one of our bands who truly know how to fill a dancefloor - the Little Big Band or Gypsy Dynamite if you fancy a more jazzy vibe. There is a natural progression in the mood and tempo which carries everyone through the evening.
We have a full orchestra with DJ playing club / Ibiza classics available which is spectacular. We also have a group of LED lit drummers based in America who are very good for these larger events.
Not with us. We know our musicians, having worked with many of them in the past so they are charging us a very reasonable fee meaning we don't need to charge the client too much.
Yes, having worked in the industry for twenty five years we are very well placed to know which musician or act will suit an event. We can make suggestions as a starting point and work with you to find the perfect match.
We will happily transfer your deposit to another date if your wedding/event is postponed due to COVID19.
Testimonials
"I booked a saxophonist named Vicky for a friends 30th Birthday…Vicky played wonderful music which was agreed ahead of time in a call to confirm the requirements (including a change of time requested by ourselves). She also had a little fun with the 2 year old son. It was a seamless experience and glad that I chose Cressida at Buzz to help me at such short notice.."
Joey, 30th Birthday celebration
"Hiring music for an event doesn't need to be tricky anymore. Buzz Music makes it all straight forward: Quality musicians, at a fair price and with the peace of mind of dealing with a reputable organisation. I hired a saxophonist for my birthday, in no time, she arrived on time and played beautifully. Thanks!"
Lina A
"We had the pleasure of Anna the cellist's fabulous talents for a boat ride down the Thames. She went above and beyond for us. Calling to the boat company directly to make sure everything ran smoothly. She put up with my ridiculous requests and our Bride-to-be was so moved by the atmosphere created that she was in floods of glorious happy tears! I hope I have many more reasons to use Buzz Music Group."
Abigail F
""Thank you all for coming...you were absolutely wonderful and I cannot state how glorious I thought you were! Thank you so much....." "
Spread Eagle Hotel, Midhurst
""We have booked pianist Alex and Phillip twice for private parties and they have been absolutely great both times. Without question, we will hire them again. Particularly impressive is how these guys play all kinds of music to such a high standard so there really is something for everyone. We are musical ourselves and have many musical friends, some of whom perform professionally, so we have to be very sure that any musical performer we hire is of the highest calibre. Alex and Philip fit the bill perfectly - these musicians are first class, creating a really great, relaxed atmosphere. They are also timely, neat and polite." "
Dr Afza and Sam Dean
"Ragga creates her own universe of sound. Like Miles Davis' trumpet, Ragga's voice floats above the music."
Heinz Bayer
"Brass has not been this good since that time Reel Big Fish covered A-Ha. "
Noisy @ Glastonbury 2017
"Talking about The Latin American Quartet on our books "Sexier than fifty shades of grey!" "
Bob Geldof
"Stunning performance"
Yamaha
Suppliers you may be interested in...
Useful
Services
Specifics
About
Style
Additional
Sustainability
FAQs
Testimonials
Articles
Contact