Useful information
What do prices start from?
5,000.00
Services
Florist
Specific Details
Bridesmaids
Flower Girls
Page Boys
Ceiling Installation
Trees
Silk Flowers
Bridal
Christmas
Props
Trees & Greenery
About the company
Lucy Vail Floristry is an award-winning London based Floral Design company specialising in installations and weddings as well as private and corporate events.
Renowned for their bold use of colour and theatrical flare, Lucy Vail Floristry is also known for pushing the boundaries through high impact installations and floral ceilings, both of which are constantly evolving to ensure no two projects are the same!
Lucy and her team have built up a loyal client base throughout the UK and further afield, and work closely with some of the top venues in London such as Claridges, Banqueting House and Guildhall.
In addition to this, with Lucy's knowledge of flowers teamed with Laura's background in Interior Design, they combine the role of Florist and Interior Designer and can assist with house dressing and dinner parties.
Taking in to account colour, texture, shape and form Lucy and Laura can create something unique within your home or office, whether it's a low key kitchen supper or creating seasonal arrangements for a big party, our experience and attention to detail will ensure the flowers will become the talking point.
No project is too big or too small for Lucy and her team!
Style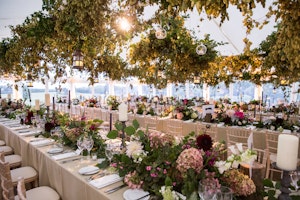 Natural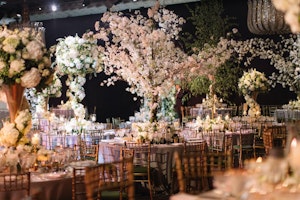 Whimsical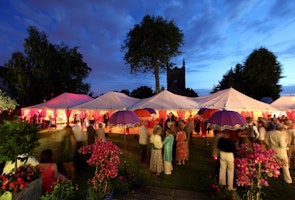 Bohemian
Additional Information
Do you do a party/wedding consultation?
Do you do a site visit?
Do you have in-house candles & vases?
Do you have in-house props for hire?
Do you provide confetti?
Do you provide delivery, set up & breakdown?
Do you provide floral aisles?
Do you provide pre party/wedding design sketches?
Do you provide table centrepieces?
Do you provide wedding arches?
Do you provide stage decor?
Do you have public liability insurance?
When was the company started?
2015
Are you VAT registered?
Sustainability
We aim to keep our waste to a bare minimum and absolutely hate flowers going to waste after an event so we usually create hand tied bouquets with the for guests to take away at the end of an event.
Where this isn't possible, we donate the flowers to Floral Angels who are a fantastic volunteer run organisation who recycle all donated flowers in to bouquets/arrangements which are then delivered to local hospices or those in need within our local community.
We are also working with less oasis with the hope of becoming foam free in the near future.
FAQ's
My first ever floral ceiling which was over 30 square meters! We used over 500 delphiniums and completely transformed the marquee in to another world - there was nothing better than seeing our clients reaction!!
Don't be afraid to be bold with colour and installations!
Natural, enchanting & colourful!