An Ultimate Guide to the Perfect Tipi Wedding
By HOPP Team
Cover Image: RAW Tipis
Tipis are a fabulous blank canvas intimate wedding option which adds a rustic-feel to any outdoor wedding venue. Their raised entrance design allows for an inside/outside feel, creating an extraordinary atmosphere with plenty of space for all of your wedding guests. There truly is nothing quite like having a wedding celebration under a Tipi tent.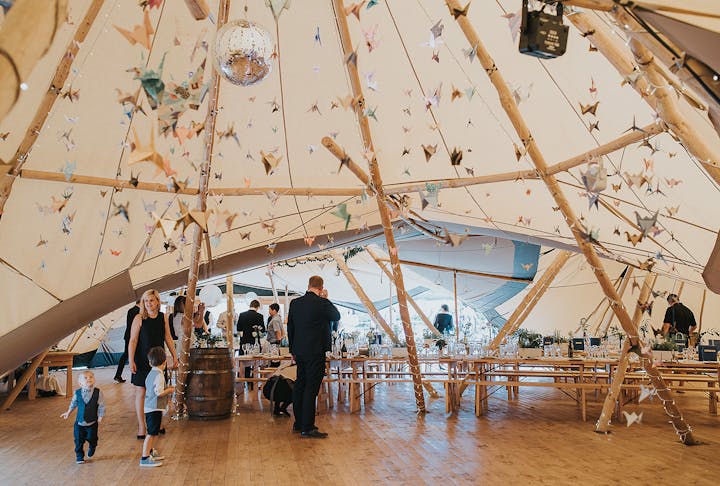 For all those couples dreaming of planning an outdoor Tipi wedding, HOPP brings you the ultimate guide to consider following, so that when it comes to planning your special day, it is a little less daunting…
Budget Yourself
Firstly, you will need to establish your budget. How much will it cost to host a luxury Tipi wedding structure? As with any wedding planning, you must consider how many guests you'll be hosting and the financials of it. Will it be a more intimate affair of 50 guests? Or will it be a more elaborate ceremony of 150+ guests? The wedding Tipi hire suppliers and wedding catering will most definitely need the most money allocated to it, so try not to scrimp here!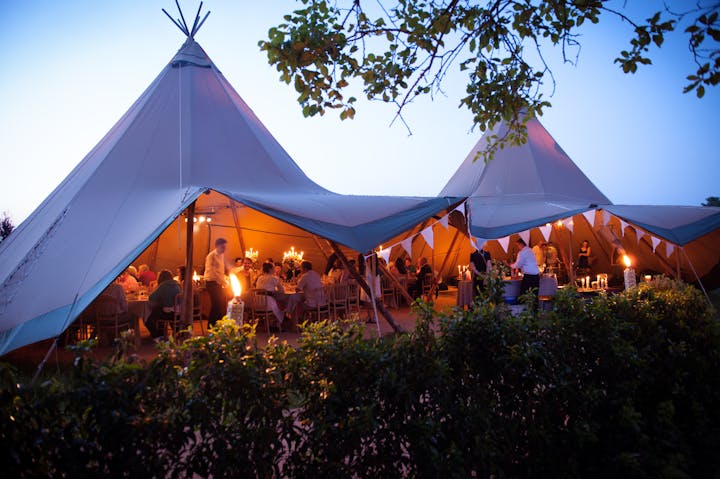 Space and Logistics
It is important to find a unique wedding location with an ideal space for a luxury wedding Tipi to be constructed. Large open spaces such as country fields are the perfect space for outdoor Tipi weddings. Once you have located the perfect site, your luxury Tipi tent provider (see our list of amazing wedding marquee hire suppliers) will need vehicle access to the outside wedding venue and to set up power and water infrastructure.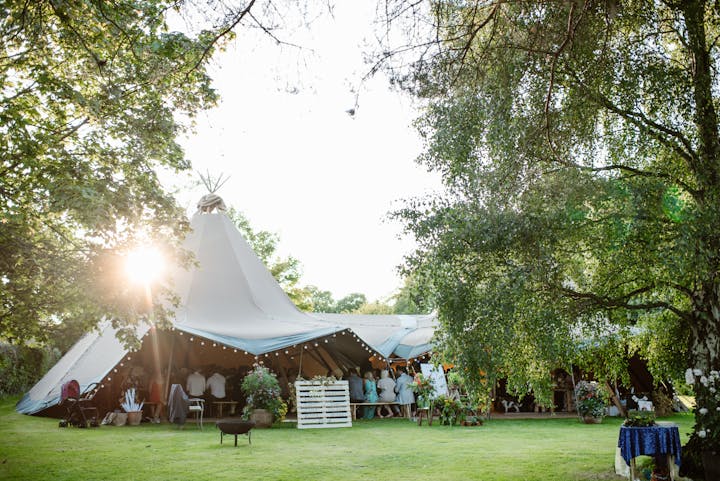 Create Your Sparkle
Another thing to consider is how will your wedding guests see when it gets dark later on in the evening? Lighting will be supplied by the wedding tipi hire suppliers who will have a variety of different lighting styles to choose from. Both fairy and festoon lights are a great option to enchant the inside (and outside) of your Tipi.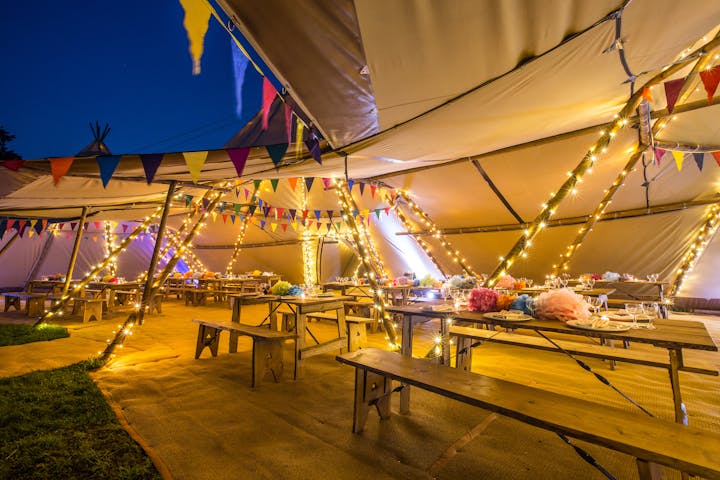 Décor, Décor, Décor
This will be your way of putting your style and finishing touches into the wedding day. Why not use one of our wedding decoration suppliers, Folly Hire, to hire fun and eclectic furniture pieces that will create a luxurious space for your guests. If you're stuck on what sort of style to go for, read our guide on How To Choose the Perfect Wedding Decor for inspiration!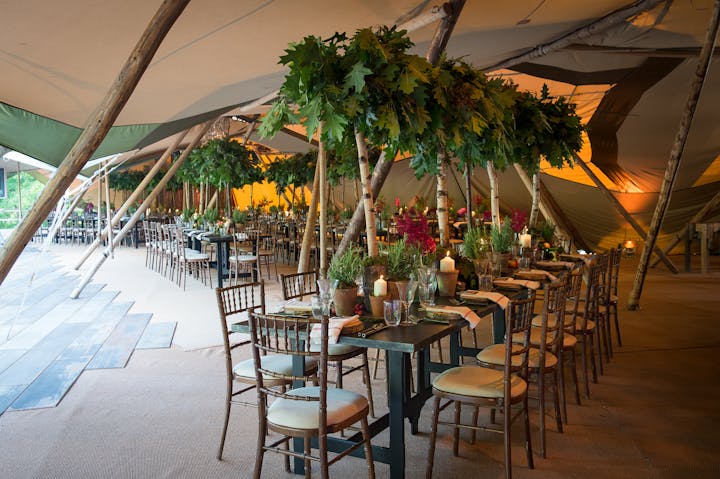 Deluxe Sleeping Arrangements
Will your guests need somewhere to sleep or crash after a full night of non-stop dancing?! Make sure there is a separate spacious tent for your guests to stay in overnight as the perfect alternative to a night in expensive hotel accommodation. Create the perfect retreat for your guests to relax in ultimate comfort by using one of our luxury wedding furniture suppliers, specialising in chill-out furniture.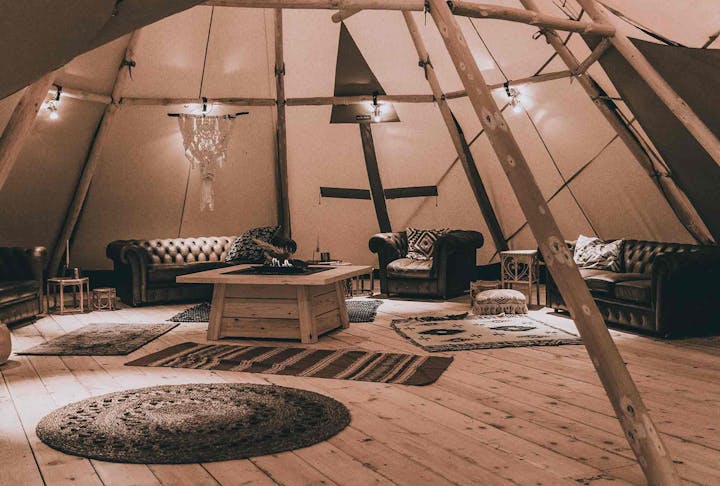 Cater To All
You will need to choose a caterer who specialises in outdoor wedding events and to consider where they will be cooking. This might mean having to hire another tent, or various caterers often bring their own tent to cook and serve from. Why not try one of our top luxury wedding caterers Urban Caprice who exquisitely incorporate the finest, seasonal, and sustainable ingredients in all their menus, guaranteeing your guests' tastebuds an outstanding culinary experience!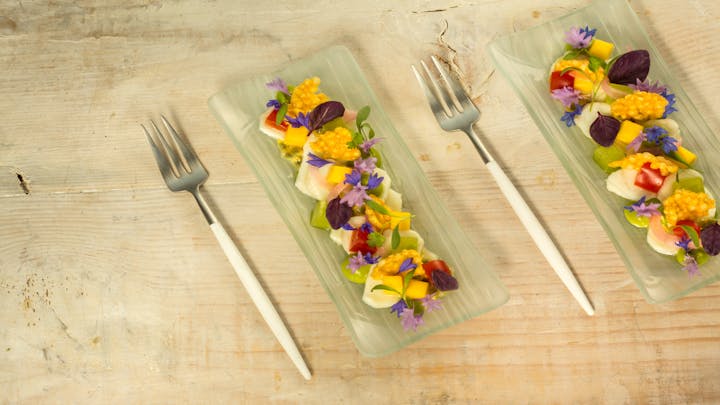 Music To Your Ears
It is crucial to write a wish list of wedding entertainment that you'll need e.g., a bar, a dancefloor, a band, a photo booth to keep your guests entertained! With the right team of wedding suppliers, all your wedding dreams will come true! We've got you covered with wedding music from the remarkable band Trio Manouche, who's mix of traditional swing tunes and upbeat quirky originals will prove very popular with your wedding guests.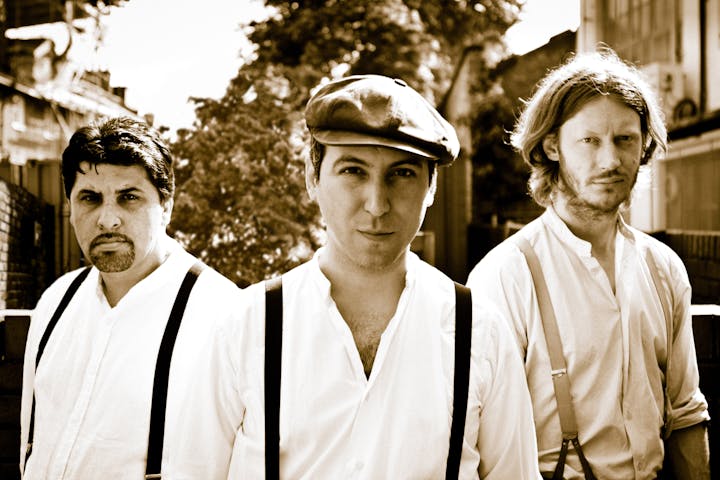 Wedding Stationery With The Wow-Factor
Now who doesn't love a custom wedding invitation that reflects the theme of the wedding? Have one of our bespoke wedding invitation suppliers, such as Ananya | Wedding & Event Stationery, design personalised Tipi save-the-date invitation cards and bespoke menu cards that showcase the Tipi's rustic-feel.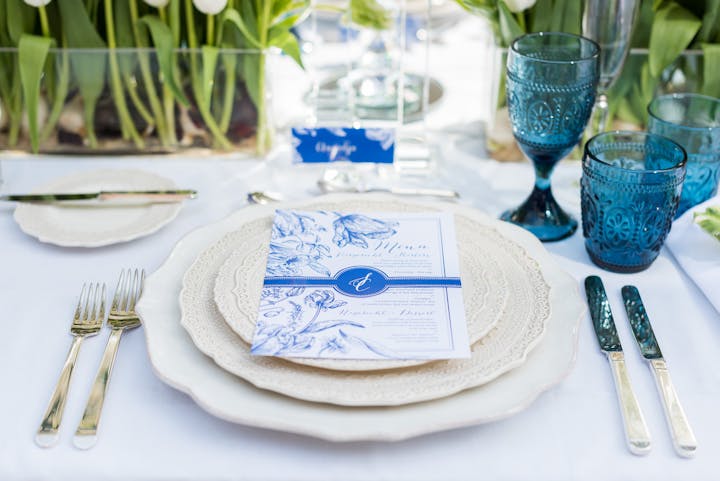 Beware Of The Weather
Lastly, as we know the UK weather is known for its unpredictability, so make sure guests are NOT caught in the rain! Using clear frontage walls to fill the open areas of the Tipi structure will allow you still to enjoy the stunning views of the outdoor wedding venue. Depending on the time of year that you will be holding your wedding reception, you may need heating generators inside of the tent to keep your wedding guests warm and toasty!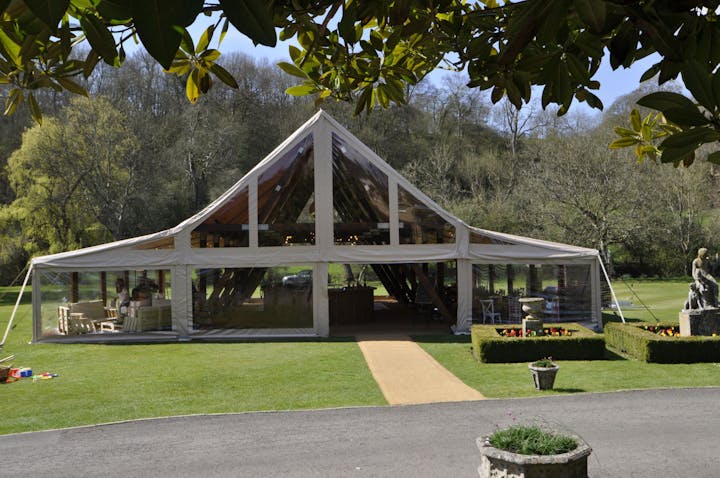 A Helping Hand
Don't be afraid to hire help! Seek out one of our amazing luxury wedding planners that can offer help on your special day as well as reading our Ultimate Guide to Wedding Planning. This will mean that most of the pressure will be taken off the preparation so you can most importantly enjoy your wedding day! Why not also contact one of our incredible Tipi hire suppliers (profile links below): Raw Tipis, Blue Sky Tipis, and Stunning Tents to help execute your Tipi wedding tent, bringing your vision to life.
Take the time to read our comprehensive Event Structures, Marquees and Tents guide for more information on why Tipi tents are becoming an increasingly popular choice for a memorable boho-chic wedding.
Written by our Team of HOPP Experts.