The Ultimate Guide to Planning a Party
By HOPP Team
Getting the party started is, as it turns out, a much more time-consuming and far more energy intensive process than it might seem. There are lists to write, deposits to be made, decor, equipment, food and drink to gather and, most likely, lists to rewrite.
The best parties require a great deal of creativity, time, and effort in order to seem like a piece of cake on the day itself. Managing talks with the party suppliers, the venue, catering, entertainment — and staying true to your theme with your party accessories — can feel overwhelming at times and, at others, simply impossible.
The good news is, we have compiled a helpful, step-by-step list to help you through your party planning journey. So, before you jump into signing contracts and invitations, take a look at our Ultimate Guide to Planning a Party, and make yourself a thorough, manageable To Do list.
1. Start By Making a Clear Budget
People, presents, and parties all come in various shapes and sizes, and an ample budget is not a prerequisite for a fantastic party. What is essential, however, is beginning with a carefully calculated number — how much you are willing, or able, to spend. Make this a priority when you begin planning your party.
Your budget will need to cover a number of larger expenses, without which there would be no party. These expenses include the venue, and various party suppliers for stationery, florals, production, lighting, sound, catering, drinks, photography and video, decor, and miscellaneous party accessories.
It will also need to account for a number of smaller costs. Party favours or gift bags, for instance, are lovely way of thanking your guests, and sending them home with a memento from the day.
Of course, one of the most significant factors influencing the overall cost of your party will be the size of the guestlist; more guests means that you will require a larger venue, more food, additional rental furniture & equipment and plenty of drink to keep everyone happy. If you are working with a more limited budget, consider shrinking your guest list down, so that you can invest more into your most important guests. If, on the other hand, you are organising an office party and cannot limit the number of guests invited, ensure that you adjust your expectations accordingly.
2. Next, Find the Theme
Settling on a theme can do wonders for creating a flawless and photogenic event, and it need not be any more demanding than you wish it to be. If you are planning a birthday party, then make the Birthday Boy or Girl the priority when considering your theme.
From a retirement party with a simple colour palette to a decadently gothic, 10-course dinner party, a theme is a wonderful way of expressing your personality, and surprising your guests with something they have never experienced before. Allow yourself to get creative with your décor elements.
Use Colour
Choosing your party decor based around a harmonious colour scheme is a simple, though highly effective, way of transforming any space. Whether you are chasing the rainbow or monochrome, choosing your party decor around a specific colour palette can simplify the planning process, harness your creativity into a fixed aesthetic, and make for a striking, cohesive theme on the day.
Pantone has announced the colour for 2020 is Classic Blue — a shade evoking anticipation, and the soft, rich hue that emerges moments before dusk — with which you might accent your decor and lighting.
If you are hosting a warm, summertime garden party, make the most of the blossoming backdrop with a soft, pastel arrangement, crisp whites, or a touch of vibrancy from a lively shade of yellow, orange, or pink.
For a more glamorous affair indoors, such as a cocktail party, choosing your party accessories according to a monochromatic or greyscale colour palette — with dramatic splashes of red from the drinks themselves — will create a refined milieu through which your guests can circulate.
Of course, a Christmas party evokes a clear image of bold reds and greens, but glittering silver, gold, and deep, spiced-oranges can make for a more elegantly festive atmosphere.
Style
Whether you fall down the rabbit hole into a vintage tea party, relocate to another galaxy, or take them all the way back to the '60s, a powerful theme creates an exciting and immersive experience for you and your guests.
A more pronounced, stylised theme will require a little more effort when it comes to sourcing equipment; from the decorations to the catering, pulling off a strong theme means taking care over each decision, and ensuring that everything contributes to the concept.
A birthday party is a wonderful time to celebrate the Guest of Honour's favourite things, while a well-planned dinner party can be aggrandised by a lavish, Gatsby-era style of elegance. If you are hosting a kids party, a theme that supports bright colours and fancy dress — from 'deep in the jungle' to 'far, far away in a fairytale' — will never fail to impress.
There really is no limit to inspiration, and any passion can be transformed into a striking and unique theme with the right party decor. Whether you are drawing inspiration from literature, film, sport, travel or history, research party suppliers who specialise in creating unique decor and food.
Season
Rooting your event within the season is another simple way of creating a strong, cohesive theme. Perhaps you are throwing an anniversary party, and the fresh, cool atmosphere of midwinter will forever take you back to the day you were married; maybe you are hosting an outdoor gathering, and drawing inspiration from seasonal food and flowers would be a wonderful way of reflecting the beauty of the elements.
3. Secure the Venue
Finding a party venue is a task best done early-on in the party planning process. It can take some time to find a space that caters to your guestlist, theme, and catering requirements, and invitations cannot be issued until you officially confirmed the date with your venue.
If you are planning a Christmas party, remember that the best venues will be booked months in advance, so ensure that you plan accordingly.
The party venues you consider will be largely influenced by the theme, the type of party you are organising, and how many guests you are inviting. You might consider...
Hotels
From modern, inner-city townhouses to rustic lodges nestled in the country, hotels make for wonderful party destinations. They come equipped with catering and dining facilities, as well as accommodation and parking for any guests arriving from out of town.

Restaurants and Bars
These spaces offer private areas for you and your guests to party away from the public, as well as on-site party catering and a built-in bar service. If you are organising party entertainment, make sure the venue is able to accommodate any speakers, microphones, or lighting.

Art Spaces
An art space offering exclusive use makes for a wonderful, open space for your party. Ensure they have an alcohol license, and space for your party catering team to prepare and serve food to your guests; outside catering teams will be able to hire any equipment the space may be lacking, but talk it through with the management before committing.

Stately Homes and Castles
Full of history and ornate architecture, these venues offer classical elegance, large spaces, and beautifully kempt grounds for a vast array of events. They are well-suited to events hosting a larger number of guests, but be sure to check numbers with the management team first. If you a hosting for a large number of guests, consider hiring a temporary structure to be erected outside, in order to give your guests more space. A stunning orangery will provide your guests with marvellous views of the grounds, golden hour, and the stars as they talk, drink, and dance.
A Private Home
If you are hosting within a private residence, then hiring a temporary structure to house your guests is a must. There are many different styles, sizes, and shapes available to suit your needs and requirements. Arranging for WC facilities will cut down on traffic going in and out of the home, and arranging a mobile kitchen with which to accommodate your catering team will allow them to serve large numbers at once.
4. Hire a Structure
Whether you hire a teepee, sail tent, traditional marquee or orangery, temporary party structures will provide your guests with shelter and comfortable temperatures long into the night.
Professional suppliers are masters at installing your structures without damaging the grounds, and providing you with all the facilities you could require to pull off the party of your dreams.
Generators
Your party supplier will be able to offer a generator (and a back up) to provide your structure with electricity. This is an absolute must for any party, unless you are hoping to achieve a truly 'rustic' atmosphere.

Power Distribution
Your generators will need to power your lighting and sound equipment, as well as any catering equipment. Discuss your requirements with your supplier ahead of time to ensure power is distributed conveniently.

Mobile Kitchen
Either your marquee supplier or caterer will be able to arrange for mobile kitchen hire on your behalf, but you will need to factor these costs into your budget. The equipment your catering team will require depends upon the number of guests they are expected to serve, and the scope of the menu.

Trackway
Rather than spoiling the grounds surrounding your venue, your marquee hire company will be able to lay down temporary 'roads' on which delivery vehicles can travel. If your venue lacks any suitable parking, they can also create trackway 'car parks' to keep the grass from churning.

Skips
Nobody enjoys the post-party clean-up, and providing the right waste disposal will help you to keep the area clear of any debris. You can hire your skips from your marquee supplier, and they can remove these after the guests have departed.

Heating and Air Conditioning
Even the great british sunshine can be too overpowering for some, and the cooler months are enough to make your guests bow out early if you do not hire a structure with the right heating and cooling systems.

WC Facilities
If your guests will not have access to any loos, or you would like to minimise traffic in and out of a private residence, then ensure that your marquee supplier can rent these to you as well.
5. Design Your Party Stationery
Your party stationery should be a reflection of you and the party you are going to throw. Find a designer whose aesthetic matches up with yours, and collaborate over the designs in order to create something truly unique.
Invitations
With the theme and date secured, it will be time to begin issuing invitations to your guests.
Along with informing your guests of the practicalities, such as the date and location of your event, Remember that this is their first taste of what is to come, and your invitations present an opportunity to plant the seed of excitement long before the night itself.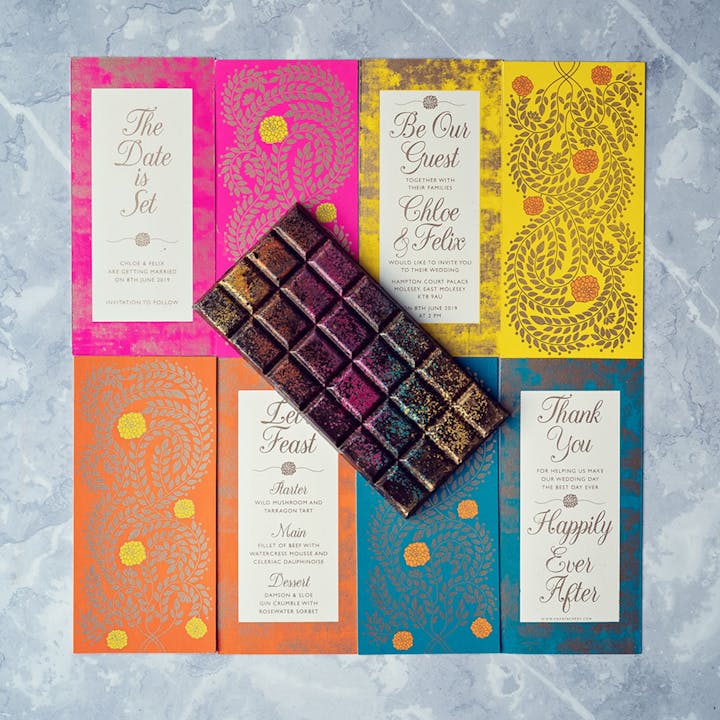 The typography should evoke a clear sense of your chosen theme.
Classic Calligraphy
Graceful, timeless, and elegant. An invitation scrawled by an expert calligrapher will prepare your guests for a sophisticated, formal evening.

Foiling
A finish of silver or gold will add a special touch to any design, whether it's for a festive affair, a special birthday, or fiftieth wedding anniversary.
Lithography
For a more luxurious finish than digital printing, lithography allows you to create a bespoke design with your party stationer, and send beautiful, affordable flat prints to your guests.
Engraving and Embossing
Engraving is a traditional technique, used to create raised lettering etched with black ink. Embossing is similar, though the indentations are left blank. Both techniques add a luxurious feel to your invitations.
Digital Printing
This is one of the most cost-effective options for party stationery, and allows you to order a large number of flat prints quickly.

Laser Cutting
This allows stationers to create bespoke designs and cut around even the most intricate of shapes. Whether you wish to create a design inspired by chantilly

lace or papel picado, laser cutting is a wonderful technique for creating complex and stunning stationery.



Ensure that your invitations contain as much information as possible for your guests. Including the date, time, location and dress code will prevent you from being overrun with emails and phone calls a few days before the event, and an RSVP envelope (stamped in advance) will enable you to keep on top of your guestlist & their dietary requirements.
E-save the dates are becoming extremely popular. Make something personal to you by hiring an illustrator, artist or graphic designer to dream up a unique design.
Placement & Escort Cards
To create a cohesive event, order your placement cards and escort cards to match the design of your invitations. Arrange this with your stationer when you place the order for your invitations, and have them create a design that mirrors the artwork you first sent out to your guests.
Place cards and escort cards are not only visually more beautiful than a table plan board, but also help the flow of guests. If someone cancels last minute or there are last minute changes, it is easy to amend and helps guests be seated quickly rather than a bottle-neck queue around a board.
6. Organise the Catering
Good food tends to be a precursor to a good evening, and it is the responsibility of the host that every guest leaves with the thought of their next meal pushed into the far reaches of their minds.
Finding a party catering team is one of the more enjoyable tasks on your To Do list; thinking about (and tasting) professionally prepared food is never much of a chore. It can, however, be difficult to pin down a party menu — with so many different tastes, diets, and allergies, the host of any party shoulders a great deal of responsibility when it comes to securing the right catering service.
Consider the formality of the event, how many guests you are catering to, and what type of dining experience your seating arrangements lend themselves — in addition, of course, to the theme. A drinks reception is, typically, the most cost-effective option for party catering. Rather than a full meal, guests are offered drinks and canapés to enjoy while they circulate the room. Family style sharing is fun for more relaxed affairs. Table Service is more reminiscent of a traditional, fine-dining experience; to keep your guests from sitting down for too long, how about pudding buffet with mini canapés?
Professional party catering chefs will be ready, willing, and able to devise a unique menu — one which will augment your theme, draw upon any seasonal produce and flavours, and establish the proper mood among your guests.
Remember to consider any limitations your venue may place on food preparation and service. The grounds of a stately home, for instance, may well prohibit barbeques. Your party catering team will be able to hire any equipment that the venue does not provide, but never forget to liaise between the caterers and the venue management.
7. Hire Your Tableware
You may wish to ask your catering team to hire the place settings, glassware and linen on your behalf. Alternatively, you can hire this equipment along with the rest of your party decor and equipment.
Each element presents an opportunity to complement your theme and venue. Consider:
Your Glassware
Ensure that there is enough for the champagne toasts, along with any other drinks and cocktails you will be serving. Hiring your glassware will allow you to order more than you may need, just in case.
Crockery
When you are dining with a large number of guests, buying your crockery will be inconvenient and cause unnecessary costs. As with your glassware, hire more than you think you will need in order to serve your starters, mains and desserts, to avoid running out.

Cutlery
Silver, copper or rose gold will all change the final look of your table settings. Choose from unique and vintage designs, and something a little more minimalist depending on your theme.

Linen
Tablecloths make a significant difference to your space. Consider plain, crisp linen, rich silk, vintage lace, and luxuriously draped chiffon.

Tables & Chairs
The tables and chairs themselves of course have a huge impact on the overall feel of the space, as well as the comfort of your guests. Be sure to consider both the practical and aesthetics when deciding on shape, weight, materials and style.
8. Plan the Drinks Menu
Champagne, wine, and a few soft drinks will all have their place throughout your event, and hiring a professional drinks catering team will ensure that you have plenty of choices with which to keep your guests happy.
Find a professional mixologist adept at crafting the right cocktails to suit an event, and collaborate with them to create a menu that will appeal to your guests' taste. Ensure that it is simple enough to keep queues for the bar at a minimum, yet filled with tantalising liqueurs, rich botanicals, and diverse flavour profiles.
For a little extra excitement, turn your party's cocktail hour into its own entertainment by hiring immersive bartenders to serve and delight your guests. A few theatrics have long been a part of the professional mixology scene, and hiring a team ready to immerse your guests in a brand new experience will make for a wonderful start to your event

9. Choose Your Party Entertainment
Your party entertainment should be there to complement your theme, and reanimate your guests with something unexpected.
Research your prospective party entertainers, and meet with them to discuss your requirements well in-advance of the day — the best acts will have their diaries filled early on in the year.
Party Musicians and Bands
Whether you need a string quartet to accompany a lavish

garden party

, a retro jazz singer to evoke memories of a long-ago wedding day, or a live band to transform your party into a live music event, the party music you choose will create the soundtrack to the evening's events.
Consider each element of the day, and how best to accompany it with music.
For the
A Firework Show
Your party entertainment is a lovely way of adding a touch of sparkle to the evening, and very little shines more than a beautifully designed fireworks display. Provide your pyrotechnician with music in plenty of time before the event, and you will thrill your guests with a bespoke, choreographed display worthy of a film. Just be sure to check any possible restrictions with the venue before you commit to any pyrotechnics.
Magician
Professional magicians are masters at drawing a crowd, capturing imaginations, and adding a touch of wonder to any event. Whether you are hosting a party for children or adults, you could choose to put on a stage show halfway through the evening, or have your magician circulate between tables.

Comedian
If you are hiring a comedian for your party, then there are many talented (and side splitting) acts to choose from. Laughter will light up your guests' faces and prevent the atmosphere from dropping off too early.
Live Artist
Your guests will adore having the opportunity to watch a live artist at work, and being able to step into the artist's chair and have their own portrait drawn before their eyes. This is a wonderful way of integrating your party favours into the entertainment; each guest who has their portrait painted will be able to take it home with them.
Dancers
The swell of music, a flash of fabric, and, finally, a beautifully chaotic eruption of movement. From burlesque, break- and fire-dancing to more traditional styles such as Russian, Bollywood and belly-dancing, enchanting your guests with skill, beauty and artistry will make it a night to remember. Hire a stage for them to dance on, or have them weaving in and out of your guests' tables.

Acrobats
Combining strength with fluidity, acrobats are capable of putting on a mesmerising show that will shock, amaze, and excite your guests. Stilt walkers, acro-jugglers, gymnasts and contortionists can put on a stage show, or wander between the guests' tables performing gravity-defying feats. Some troupes and performers will also offer themed performances, whether you are throwing a christmas party or something a little more supernatural.
Aerial Performers
Turn everyone's gazes upwards with a vertiginous display of elegance and daring. Aerial performers can put on a choreographed display for guests to watch, or break the fourth wall (or, in this case, ceiling) by multitasking as your bartenders.
Projection Mapping
Find a production company who can transform any 3D structure with a little digital magic by projecting vivid colours, illusions, and video that perfectly fits the shapes and contours of your venue. Gather your guests in the grounds for a beautiful display set to music, or seat them at their tables and let them marvel as the place settings and centrepieces are infused with light and movement.
10.Schedule Your Musicians
As you begin researching your live musicians, make a schedule for the evening's events and make a plan for each of the musical portions. In doing this, you will know exactly when (and for how long) each of your party musicians should be ready to play.
The Drinks Reception
As your guests arrive, greet them with a little background music to stir up conversation, and immerse them within your event. Something acoustic, such as a solo harpist or singer guitarist, will promote wandering.
Dinner and Speeches
Rather infamously, music and food tend to go hand-in-hand. A relaxed background melody from a solo singer, string quartet or pianist will allow your guests to make conversation and enjoy their meal, and listen to any speeches that may be given over a glass of champagne.
Dancing
A change of pace will enliven your guests after their dessert. Consider a jazz saxophonist who will be ready and waiting with that first electrifying note, or a live band in-keeping with your theme, to get your guests out of their seats, and onto the dancefloor. Professional DJs will know how to work the room, and cater to all tastes in music.
11. Speak with Your Florist
Your flower arrangements present another way of bringing your theme or colour palette to life, and talented florists have the right eye to turn any dream into a reality.
Properly arranged, florals and greenery can bring any space to life, and capture the essence of the event perfectly.
Centrepieces
Adorn your guests' tables with lavish, fresh flower centrepieces. Draw inspiration from the season, and your colour scheme, and meet with your florist to discuss design ideas.
Order a few larger, free-standing pieces with which to decorate the entrance and foyer, and a few more to stand on the bar.
A Flower Wall
A flower wall will create a beautiful backdrop for photography. Placing it outside will give your photographer some beautiful lighting to work with as the sun begins to set, but your lighting technician will be able to install the right set-up if you are limited on outdoor space.
Some suppliers will also provide and install floral ceilings and arches to suit your specific needs and these can be used to stunning effect for all sort of event types.
12. Photography and Videography
Professional photographers know how to capture everyone's best angles, and to translate the spontaneous joy and excitement of a great party into a lasting memory. Hiring a party photographer is the best way of ensuring that you and your guests are able to enjoy the evening to its fullest, knowing that your photographs are in expert hands.
As with all party suppliers, booking your photographer with plenty of time to spare before the day is of prime importance. Meet with them to discuss the finer details, and do some research their portfolio to ensure that their style fits with yours.
You may also wish to have a photobooth installed at your venue. This is a small space, separated from the rest of the party by a backdrop, where guests can get together and take photos as a group. Not only is this a fantastic extra for your party entertainment but, by the end of the night, you and your guests will have a hoard of playful photographs to add to your collection.
When it comes to video, professional videographers have a range of skills and equipment with which to capture a polished and cinematic recording of the evening. Even if your guests are infamously camera shy, an expert videographer will know how to film everyone in their most relaxed and happy states.
13. Party Décor & Equipment
By now, with the major party suppliers all in the bag, it should be time to turn your attention to the venue's decor. Finding the right props, arrangements, and party accessories can be an exciting — though time consuming — process, particularly when you have a large guest list to cater to.
The Party Decorations
Begin by thinking about the larger items you need to source. If you are trying to pull off a grand theme within a large, empty space, then hiring your

party decorations

— from your furniture, props, and lighting to your bar — will enable you to create the right atmosphere without destroying all that work you put into the budget.

Set Design
As you begin your plans for the decor, pinpoint some time for organising your set design. If you are planning on positioning your entertainers and musicians on a stage, then hiring a few larger props, lighting, and curtains. If you are planning a more immersive experience, then make the entire venue your stage, and hire some more extravagant props with which to decorate the room.

The Stage
If your venue does not come equipped with a stage, then don't forget to arrange for one to be brought in during the set-up. If you are hiring a temporary structure, then your supplier may be able to handle this on your behalf.

The Bar
If your venue does not come with a bar, there are dedicated party suppliers who can install a fully stocked and manned bar for the evening. Indoors or outdoors, rustic or sleek and modern, giving your guests access to professionally prepared libations will never go amiss.
Chill Out Areas
Create an area for your guests to rejuvenate, chat, and enjoy a drink or two buy hiring a collection of soft furnishings along with the rest of your party decor. Rather than forcing guests back to their tables when they need a rest, a designated calm space will create more variety within your venue, which will keep the party going long into the night.

Lighting
A professional lighting technician will know how to transform your venue's spaces into something fully immersive, and visually stunning. They will understand how to work around any limitations, and set the right atmosphere throughout the event.

The Dancefloor
One of the most vital pieces of equipment. Coaxing your guests out of their seats is one of the keys to creating a lively, celebratory atmosphere, and a dancefloor will make certain that even your shy guests have the space to let their hair down.

Dancefloors

can be laid indoors or outdoors, and your lighting and sound technician can work with you to create something irresistible to guests.
Your theme and venue will dictate to you what equipment you need, and renting party supplies online will be a breeze, provided that you stop yourself from the temptations of beautiful party accessories that do not contribute to your theme. Instead, use it as a filter, and disregard anything that will not transform your venue into a manifestation of your vision.
A Few Insider Tips...
For some additional entertainment, consider renting a photobooth for your guests to enjoy throughout the evening. Not only will you have a great collection of photographs at the end of the evening, your guests will have a copy to take home, too.

Make a checklist early on. Note down all the equipment you will require, including decor, furniture, and tick these off only when you have confirmed them with your party suppliers.

If you are planning a birthday party, remember to order the cake early on — around the time you arrange for your party catering. Designing and creating an impressive party cake takes time, and, as with all your party suppliers, the best cake makers will have busy diaries.

Remember to set aside time for the smaller party accessories, as well as the big ticket items. A gorgeously decorated room is the sum of its parts; the props and furnishings are important, but consider the design of the table settings. Your guests will spend a considerable amount of time at their tables, and will notice all the finer details, from the cutlery to the fold of the napkins.

If you are using a cocktail bar, work with your mixologist before the party to devise a simple menu. Choose the most popular spirits, and limit it to a small selection of drinks to keep the queue from spilling onto the dancefloor.
Written by our Team of HOPP Experts.