Entertain Your Kids With Virtual Discos, Activity Packs, Letter Writing & More...
By HOPP Team
Keep your kids, brothers, sisters, cousins and all little ones entertained with some amazing virtual parties, activity packs and ways to keep connected with their friends!
Sharky & George are up to a whole lot and bringing fun, games and entertainment to your home - check out some of the highlights below!
After School Club
They're hosting a live virtual after school club - huzzah we hear you cry! Tune in for daily activities like this bonkers and brilliant bubble sock! There will be cooking, dancing, farming, science experiments,quizzes and adventures!
Every weekday they will be going live on their Facebook and Instagram channels at 4.30pm with some exciting activities for you and your family to get involved with.
Instagram click HERE, Facebook click HERE
Virtual Disco
Their amazing team will host an epic Virtual Disco for your children and their friends! They will be equipped with professional DJ equipment and have an library of quaranTUNES at the ready. There will be an endless variety of traditional disco games and activities throughout the party that have all been carefully crafted to ensure everyone is engaged from the comfort of their own homes. It will be high energy from the get go, so grab your dancing shoes and we will see you on screen!
To find out more click HERE
Helping our NHS Heroes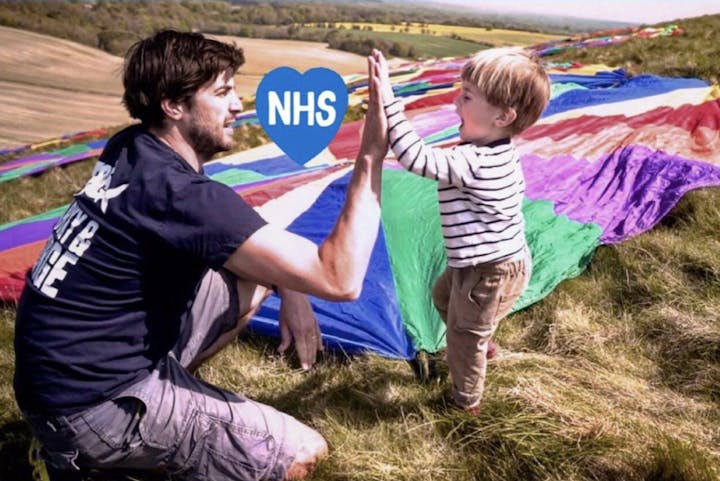 'After wondering what we could do to play our part in supporting NHS heroes, we decided that we should stick to what we do best, having FUN - so last week we launched our free parties for NHS frontline workers.' Sharky & George. Their aim is to spread happiness, fun and mischief to as many hospitals across the country as they possibly can, so please do keep your nominations coming and they will choose a different family each week to enjoy a free party for their children and friends.
To nominate an NHS frontline worker for a free virtual party, all you have to do is direct message them with their name, a rainbow emoji and a brief description as to why this person is a hero in your eyes!
To find out more click HERE
Virtual Music Party
Their Virtual Music Video party is PERFECT for the groovers and the movers out there! Three of their amazing team members will host the party and through the wonders of the internet (Google Hangout/Zoom) this can all be done from your own home. What makes this even more exciting is that you can add any number of your friends and family from different locations around the world to really bring everyone together in a unique and exciting way during these strange times.
To find out more click HERE
Birthday Boxes & Activity Packs
They have some brilliant birthday boxes packed to the brim with awesome games and goodies to ensure that no-one misses out on birthday celebrations during the Coronavirus lockdown.
They also have three boredom busting activity packs to send directly to your door to help your children in isolation through the Coronavirus outbreak! Our faves are the Nature packs for all the aspiring David Attenboroughs & superhero activity packs, here to fight crime and quarantine blues.
For Birthday Boxes click HERE
For Activity Packs click HERE
Letter writing is becoming a lost art and an endangered skill; with suddenly so much time in their hands, today's young generation could revive this meaningful tradition. 'There is nothing more personal and exciting than composing and receiving a well though-out handwritten letter' and Downey & Co are giving kids the tools to do this!
To find out more click HERE
At Creche The Party we pride ourselves on being able to create a Creche area at any event that ensures your little ones can enjoy the day as much as the guest of honour. We do this by using our childcare expertise mixed with fun, games, singing, dancing, crafts and much more! Many of the techniques we use at our events can be easily adapted for home environments which we have found useful during this lockdown, so here are some ideas to keep your little house Crecher's entertained.
To find out more click HERE
They are creating some fun activity sheets that you can download so far they include Making Music, perfect for the weekly NHS clap, sorting socks, a fun activity for the little ones. Also watch this space for soon to be launching scavenger hunts!
To find out more click HERE
ChicP has a line up of fun events for all the family including Veggie Bite and Hummus making, & Yoga and especially tune in to their Instagram Live Friday at 9am for Kids Cork Board Making!
Instagram click HERE
Written by our Team of HOPP Experts.