The Complete Guide to Non-Traditional Seating Options
By HOPP Team
Feature Image: Juno Hire
COVID19 has been upon us for over a year now. And what a challenging year it has been. It goes without saying that we've all had to adjust to social distancing and safety measures to allow life to resume as normal, particularly now with events and parties gradually opening back up once again.
Let's face it, the past year has changed lots of people's perspective on personal space and not wanting to feel 'crammed in', and your party or wedding needs to account for that. If you're ready to start thinking about planning an event in 2021, look at our list of premium party suppliers!
Your seating choices need to be comfortable, stylish, whilst at the same time remaining functional as party seating truly does matter. If you're stuck on where to begin, why not first read our comprehensive guide to planning a party which will kick-start the process and spark some inspiration for socially distanced event ideas. The following non-traditional seating event ideas mentioned below will allow extra space between guests so you and all your guests can celebrate in style and most importantly stay safe.
Chill-out seating areas
These are great for guests in the drinks reception or to making a vibe of the smoking area - why not even add a cocktail drinks bar here too. The best parties have multiple areas for your guests to enjoy so it feels like an adventure, and they can take a well needed time-out from all that dancing! Having a designated calm space for any wedding or corporate event will create more variety within your choice of venue and at the same time will make sure you and your guests are adhering to all the current coronavirus restrictions.
Indoor swings
We promise that swings aren't just for kids these days. Indoor swings are perfect for large open event spaces, giving guests incredible photo opportunities. It helps that there is only space for one person on each seat, so they act as the perfect seating option during Covid times, keeping guests socially distanced. Swinging will also transport guests back to their childhood of when lives were orientated around play (rather than work!). Nostalgia is a win-win we say! Why not head to our corporate event suppliers page to browse our premium event suppliers to start celebrating your team's achievements today.
Nap pods
Now who would say no to an afternoon-kip if it was offered at a party?! Nap pods, also known as sleeping pods, are our new fave party trend, which is a great luxury option allowing guests to take a break or a time-out from a party. These pods will create a space for your guests dedicated entirely to snoozing. They will also help restore sore-headed party-goers for the long night of dancing ahead!
Bean bags
Are you thinking of planning a kid's party but worried about the little ones maintaining their distance from their friends? Why not use bean-bags, which are perfect for kids (as well as adults!). They are easy to move around and a very comfortable option. Browse our industry-leading kid's party suppliers page to find trustworthy and safe furniture hire suppliers to furnish your party space. No-one wants to be sat on an uncomfortable seat for the whole evening!
Go outdoors
For ease and convenience, an outdoor summer party of spaced out al fresco dining is the perfect way to create a memorable wedding or party experience during Covid-19. This might include using bar stools or widely spaced benches so guests can enjoy the sunshine whilst keeping their distance. Why not check out Juno Hire's bespoke furniture collection that has everything you could want and more to host socially distanced events, without the need to compromise on style.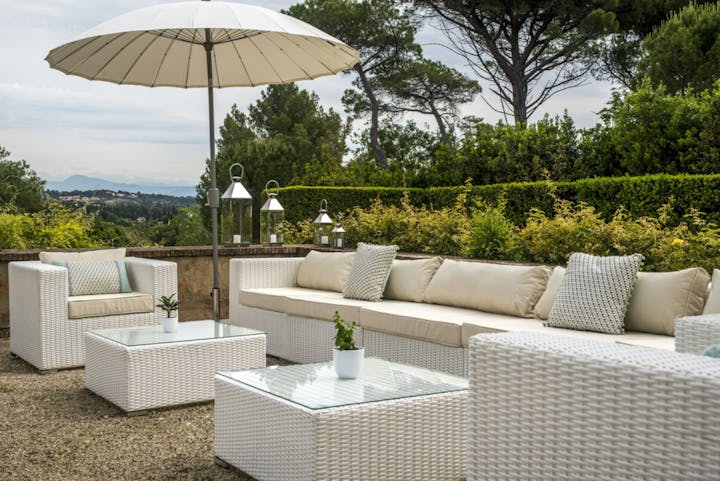 Image above: Velvet Living
Image Above: Folly Hire
We hope this guide has made you want to un-cancel that celebration or special occasion that you had planned. The team at House of Party Planning want you to celebrate those special moments with your loved ones, so let the the planning start here, with our ultimate guide to planning a birthday party. We can't wait for when the restrictions ease once again and the vaccine is rolled out on a larger scale so that it is possible to party once again!
Why not also use the following furniture hire suppliers (profile links below) to help you host a party whilst keeping your guests both comfortable and socially distanced: Folly Hire, Velvet Living, Juno Hire, and GBJ Design.
Written by our Team of HOPP Experts.