Support the Events Industry as they Support you at Home!
By HOPP Team
The country might be on lockdown, but the events industry has come up with several ways to help clients to uplift their spirits at home. From creative cocktails to delivering delicious dishes, here's how to support your favourite suppliers!
1. ORDER A DELIVERY
Some caterers have turned their kitchens into takeaway and doorstep deliveries. Here are some initiatives we like the sound of.
The Kochi Kitchen is doing mouth watering, delicious deliveries in London, Essex and Suffolk which have simple instructions and are suitable for freezing. The menus are vibrant and full of incredible flavours using seasonal, local produce and inspired by Kerala.
Menu: click here
07858412227
Caiger & Co's innovative & delicious delivery menu includes fresh boxes of amazing produce and meals. Check out their NHS Special where all profit goes to make snacks and treats deliverable to NHS workers & the Easter Box which includes lunch and treats for the family. Their fruit and vegetables are all from the same farm in Sussex, the same farm in that that also uses their waste for compost!
Menu: click here
Order: click: here
The Full Fat Chef is doing amazing deliveries in Maidenhead (London as of next week) with Cake Wednesdays, Pasta Thursdays and Curry Fridays - our mouths are watering already.
2. BUY THEIR PRODUCE
While some caterers have switched to delivery, others have transformed into amazing operations delivering fresh produce to keep their neighbourhoods eating healthily.
Social Pantry has created a special home-delivery menu made to last for three days, working alongside fabulous suppliers to bring high-quality, fresh and delicious produce. Based in Wandsworth, anyone living within a six-mile radius will be able to purchase one (although they are constantly widening their radius so please get in touch if you live outside). The team will be delivering breakfast, lunch and dinner supplies including eggs, fresh fruit and veg, homemade granola and a complimentary loo roll. Their 'Get Your Snack On' box is perfect to enjoy with a glass of wine at the end of a long week.
https://socialpantry.co.uk/supplies/
Doggart & Squash x Lucy Vail Floristry
The incredible Lucy Vail Floristry & Doggart & Squash have joined forces to deliver right to your doorstep the most delicious locally sourced food produce, sweet smelling flowers and purifying plants. Boxes start from £20 and flowers from £15. All NHS workers, teachers and pharmacists please send them a picture of yourself with your pass to receive your 30% discount.
https://www.lucyvailfloristry.com/shop
Over Under is offering delivery of its quality, organic coffee & homemade granola via their website, so you can enjoy a delicious cup of coffee at home to start your day. Customers can order up to 250g of fresh coffee & homemade granola, which will be shipped straight to your doorstep.
https://www.overundercoffee.com/shop
3. ENJOY A DRINK!
Check out their online offerings: wine, spirits, and ingredients/guides to making cocktails at home.
Mixology Brothers have created essential food packages and cocktail hampers delivered to your door with your choice of spirits, liqueurs, mixers, garnishes, ices, tips and hints from their mixologists. This is our Friday night sorted!
Wanderlust Wine offers contactless doorstep drops! They continue to deliver UK wide to ensure everyone can get access to great, organically focused wines.
https://wanderlustwine.co.uk/buy-wine-online/
Chase Distillery are offering a generous 15% off their spirits collection, and some amazing cocktail recipes from their team! For our NHS heroes they are offering a total 25% off their spirits collection plus free delivery. They are also running a fun competition: snap a picture, tag @chasedistillery and use #ChaseAtHome to be in the running to WIN a bottle of vodka or gin from their field to bottle collection.⁠ There will be FIVE winners, announced Friday 10th!⁠
https://chasedistillery.co.uk/shop/
Kuka Coffee have offered 15% off with code KUKAHOME15 during these tough times isolating at home. With their simple cocktail recipes you can be the Espresso Martini maestro in no time…
https://www.kukacoffee.co.uk/shop
What does your home bar look like? Get in touch if you need any simple cocktail inspiration during this lockdown. Direct message them with what you have to work with and they will reply with some tasty suggestions!
https://www.instagram.com/p/B-NMjP1Ax9Y/
4.ENTERTAIN YOUR CHILDREN
Sharky & George have created some amazing activity packs for kids to keep them entertained, AND...Stay tuned for updates on their Raving and Misbehaving Family Disco which will be weekly on Facebook LIVE (next is Sunday 5th at 3pm!).
https://sharky-george.myshopify.com/collections/all
https://www.facebook.com/sharkyandgeorgeparties
5. ENTERTAIN YOURSELF
ERA Calligraphy has created this kit to learn Modern Calligraphy from the comfort of your own home! For £28, not only does the kit include all of the tools, equipment and worksheets that you would get from a normal workshop with ERA Calligraphy, you will also receive a link to a 40 minute film which includes an introduction to Modern Calligraphy & demonstrations, all the joy of a calligraphy workshop without changing from you PJ's!
https://www.eracalligraphy.com/workshops
6. SHOW SOMEONE SOME LOVE
Embellishing The Ordinaryhas done some wonderful designs to send birthday cards, thank you cards or just a loving message! To order 1. Choose your design. 2. Message Laura name and address the card is going to. 3. Personal message inside - optional. Prices [inc. postage]
1. £5 for pre-designed card [blank inside] 2. £10 for pre-designed card with message inside 3. £15 for bespoke card and message .
https://www.instagram.com/p/B-b9JSkgoZw/
laura@embellishingtheordinary.com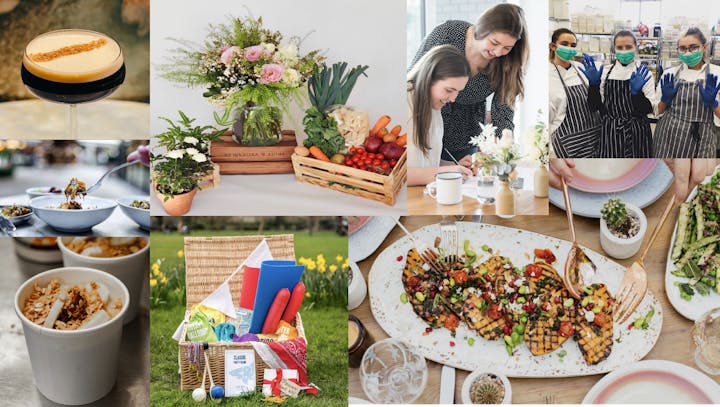 Written by our Team of HOPP Experts.